A well-researched set of keywords is pivotal to any successful SEO strategy – and therefore pivotal to the success of any modern website. What's more, targeting e-commerce keywords specifically can mean the difference between successful keywords, and successful keywords AND conversions.
Ranking for chemical-free sunscreen,
Is not the same as ranking for chemical free sunscreens under $15
At the end of this article you should have an expertly curated keyword list to boost your e-commerce platform.
But why are keywords so important? Let's ask Shopify, one of the most commonly used e-commerce stores, and one which likely hosts some of your own websites.
"Every time someone does a search, the search engine must decide which handful of results to display from hundreds of thousands of possible pages. It's up to the search engine algorithms to determine the best and most relevant matches for every single search. This is why it's so important to choose your keywords carefully, so that the search engines can match and display your site in the search results to the most relevant keywords searches".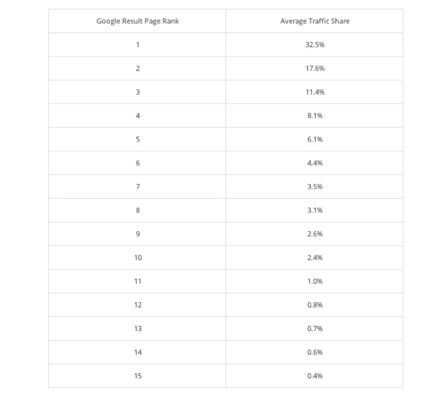 PICTURED: This chart shows a breakdown of traffic flow onto each page of a Google search result. As you can see, the returns from getting your page onto the 1st, 2nd, and 3rd pages represent a king's ransom in the overall population of searches. Image source, Shopify, Chitika.
Why is keyword research necessary for e-commerce
To answer that question let's look over 5 different ways e-commerce platforms can generate traffic. They could…
Publish posts of content on social media platforms like Instagram and Facebook, or owned media platforms like blogs or podcast channels
Try and publish articles and content on other websites to generate a healthy distribution of backlinks
Take out paid media campaigns like native or banner ads, or those on social media platforms like Facebook and Instagram
Use email marketing software to send newsletters and other broadcasts to a subscriber base
Put some of their products on Amazon as well, with proper links going back to the original site
There are other ways, these are only some.
Here's how you know SEO gives you something these methods cannot
What a proper SEO and keyword optimization strategy gives you is the ability to connect with members of your audience who don't know you exist but that need your goods and services.
One simple reason explains this phenomenon – people who are looking for to buy a product or service you offer are looking for it.
Audience members looking at paid, shared, or owned media campaigns are not necessarily the people who are going to convert into paying customers, readers, subscribers, etc.
Someone who Googles "chemical-free sunscreens under $15" is in fact looking to buy chemical-free sunscreens under $15.
They've already taken a meaningful action towards converting, i.e. seeking out the product they want.
Making sure your keyword and SEO strategy get you in position to be found by these seekers, is exactly why keyword research is so important for e-commerce stores – because it allows you to access the most profitable kind of audience.
Many of the other reporting tools in SEMrush are capable of reporting on your competitors as well, and maximizing your spying efforts is easy with SEMrush.
Some things to make special note of when making a keyword strategy for e-commerce
Look for keywords that are specifically used in purchases within your niche.
For example…
You could try and rank for "chemical free sunscreen"
Or you can try and rank for "chemical free sunscreen under 15 dollars"
You can make attempt at this by entering this long-tail keyword into the meta-description on your store page.
The next thing you'll want to do is get out a pen and paper and begin to keep track of which keywords produce what results. These results could include…
Keyword difficulty
Search volume
Cost per click
Competitive density
Conversion Ratio
These are important to keep track of because certain keywords will rank higher with certain criteria, but perform worse under others. For example questions – questions are searched a lot, but usually convert very little. This is because most search engines produce answer boxes before the top ranked page which just gives you the answer to the question without requiring the searcher to actually visit the website.
PICTURED: A Google answer box to the question, "Donald trump age".
You won't want one of these boxes appearing when people try and search for your product, so try not to attack any keywords which produce one when entered into Google.
With that in mind, let's build a list and strategy!
4 Steps to building a list of e-commerce keywords
1) Your first step should be to create your seed list of keywords.
This list is the collection of keywords you hope to rank for above all others, that represent the ideal descriptions of your business as a whole or the product you want to sell as well as those which can easily be expanded to include specific tails or questions.
In order to help you genesis a seed list of keywords, it would help to understand all the different kinds of keywords.
Question – "How to clear up acne?"
Broad-based – "Acne medication."
Long-tail – "Organic acne medication for under $30 dollars "
Location-specific – "Dermatologist near me"
URLs – www.acneistheworst. biz
Picking a good keyword is often about finding a keyword that someone would likely search for in all of these different scenarios.
---
2) Your second step should be to enlist the help of keyword planning tool
You can use one of the following keyword planning tools to come up with additional keyword ideas as well as test them in real time.
1. Google Keyword Planner has been one of the most trusted and well-known keyword analysis tools among digital marketing and SEO professionals for a long time. The main purpose of using the keyword planner tool is to access the average monthly search volume of relevant keywords. This helps you determine the profitability of your targeted keywords or key phrases. Here is a screen shot of the Google Keyword Planner dashboard.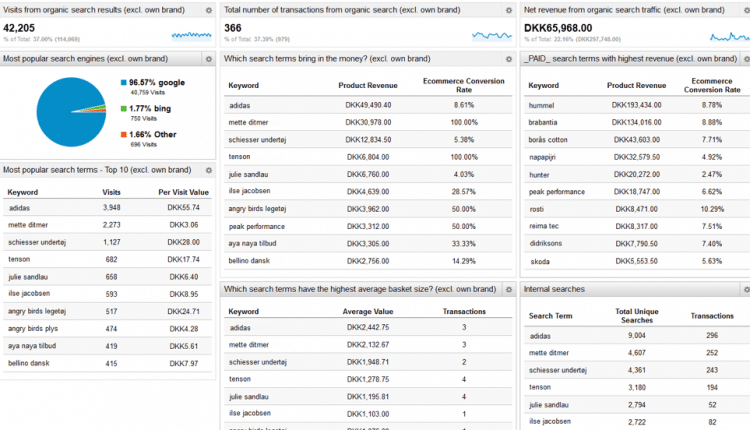 2. Answer the Public is a question-based keyword research tool which provides a long list of prepositionally or alphabetically sorted keyword suggestions. This tool is also helpful to generate topic and content ideas. Here is a picture of me searching for the keyword "chemical-free sunscreen".

---
Finally you can also just use Google searches to generate a field of possibilities. Simply type in your seed keyword, and scroll down to the bottom of the page.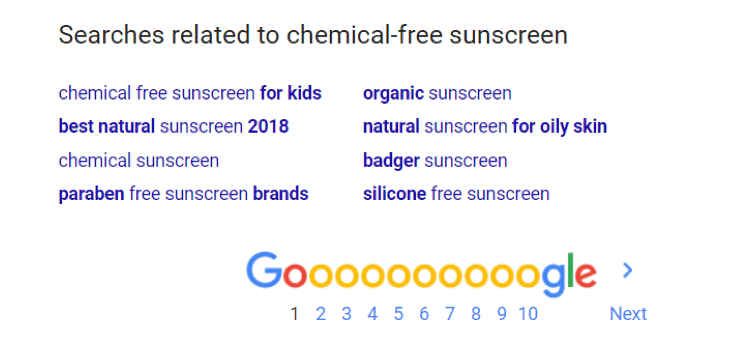 PICTURED: Google automatically generates 8 possible alternatives to the keywords you entered. Try using to researching these keywords in SEMrush to see how productive they are.
Take your ideas from step one and combine them with your ideas generated in step 2
3) Your third step should be taking your list from the first two steps and researching the keywords with SEMrush.com
SEMrush is a keyword planning tool, one of several premier options available on the market today. It allows you to genesis a powerful keyword research and implementation strategy to ensure you are getting the most out of your keywords, and the largest chunk of search engine traffic you can.
Take the list you made earlier to SEMrush and research the quality of the keyword
What can I learn from SEMrush research?
Well for example, the following slide is from the "organic research report" that you can generate for your domain at any time.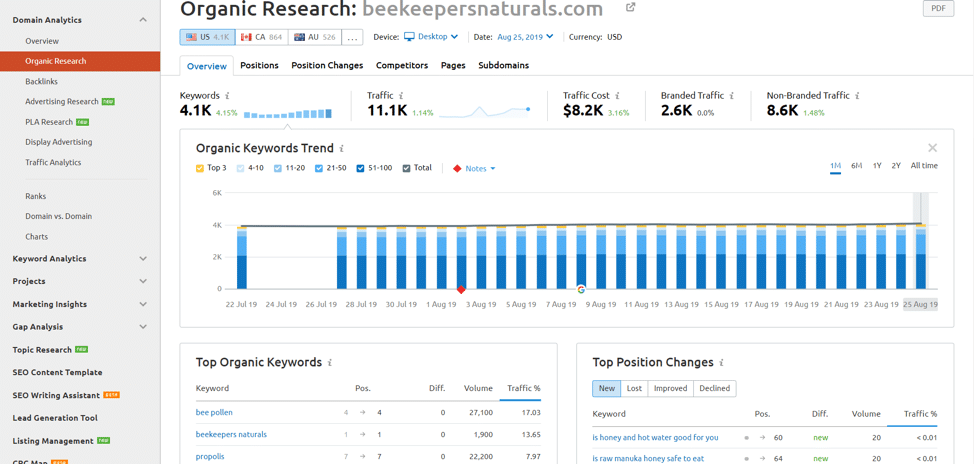 PICTURED: In the organic research report generated free of charge for Beekeepers Naturals, an organic hive products company made through Shopify, the SEO/content/marketing manager can see what keywords are being generated naturally from searches, how they are performing, where the website ranks on the organic keywords in regards to the rest of the internet, and much much more.
You can scroll down to see the various keywords and the metrics you could use for success. For example they rank 4th for keyword "bee pollen".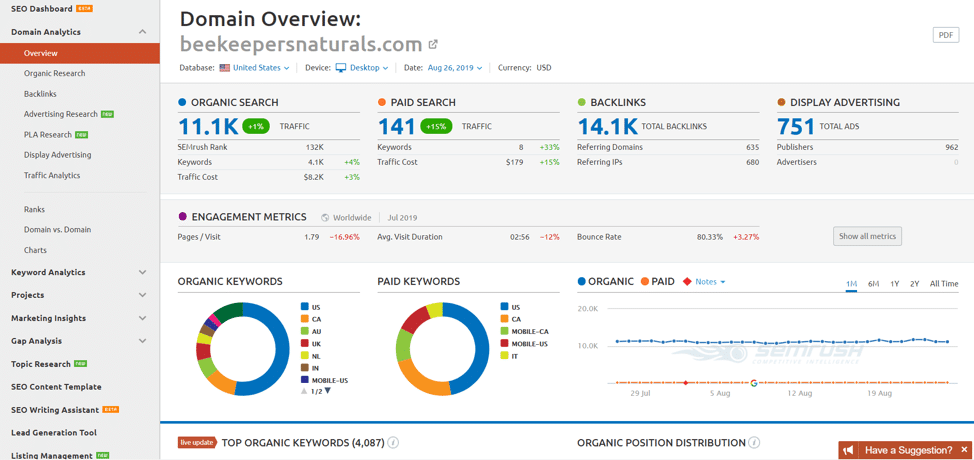 PICTURED: This is the domain overview report – similar in that you can see all kinds of important statistics about where your domain is popular, how much your paid traffic strategies are costing/contributing and more.
These are a few of the functions that help deliver the valuable data needed to create an effective keyword strategy whether your plan is a broad and inclusive one, or a narrow and specific one.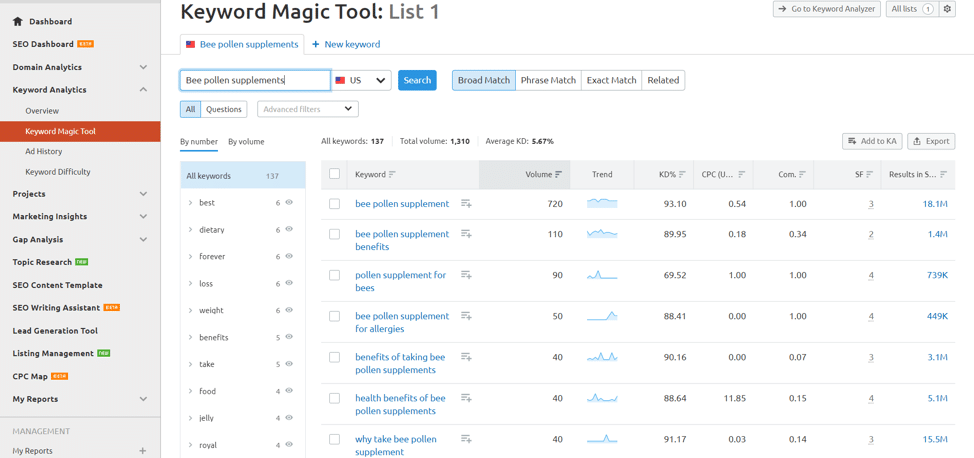 PICTURED: What you have going on in this screen capture is the keyword magic tool in action. It can help you with brainstorming keywords to try and rank for by giving you a more detailed picture of what potential your keyword has. The descending list of keywords in the slide is a list of generated suggestions which SEMrush feels might improve your ranking.
This is where you can take your keyword list to task and see what potential it has for e-commerce. You can take a seed keyword, in this instance "Bee pollen supplements" and see what people are naturally expanding and including in their searches.
4) Your final step should be taking your list that's been curated with SEMrush, expanded and enhanced therein, and implementing it for a while and see what happens.
 In the meantime…
The other truly important advantage with SEMrush and with keyword planning tools in general is that they allow you to spy on your competitors.
How to use SEMrush for spying and reconnaissance
Why is spying on your competitors important? Your competitors are different people with different ideas, and normally, different guesses on what the best keywords are to plan for.
You both might be planning to utilize a similar set of keywords, resulting in a competition for rankings on search engines between the two of your e-commerce platforms. However, if your competitor's strategy is a little bit more well-researched and implemented, it could mean the loss of thousands in revenue.
At the end of this chapter you'll be the bonafide James Bond when spying on your competitors.
To best describe the impact of properly researching your competitors, imagine if you will this scenario…
Two armies of equal size approach each other in wartime with the intent to conduct battle.

Army A

utilizes reconnaissance planes to scout

Army B

. The planes gather information on the troop strength of

Army B

, how many pieces of artillery they have, how they are deploying their forces, and where their formation is weakest.

Army B

has no reconnaissance aircraft, and therefore cannot divine whether

Army A

plans attack or defend, whether

Army A

has any armored vehicles, heavy munitions, or artillery pieces, and which of their flanks is most vulnerable.
In this scenario, there can be only one outcome. Army A will win as near as makes no difference, every single time these two armies meet for battle.
Spying continued…
Returning to reality, let's look at other reasons why keyword research should always include research into your competitors and their strategies.
Along with your personal keyword strategies, a lot of keyword research is done through looking at organic keywords like in slide 2. These represent how people are stumbling upon your platform with their own ideas. See if your competitors have any organic keywords that are doing well for them, steal them, and then see if they work for you.
We all have different patterns of reasoning and thought, and since keywords are a bit of a lottery, as well as the capacity to be really specific, it's important to see what other ways people are coming up with to describe your niche products and services.
If for over the same keywords, you are unknowingly battling a much larger e-commerce platform, or a much larger number of e-commerce platforms than you thought occupied your niche, discovering so can help steer you into your own avenue of success rather than bashing your head against a brick wall trying to outperform superior competition.
Here's how you can go about spying on your competition.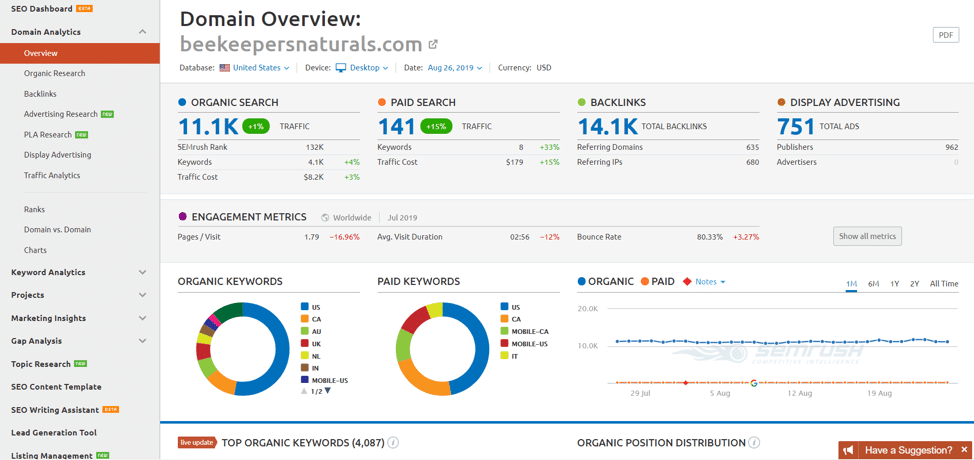 PICTURED: Here's slide three again. In the domain overview tool, you can analyze your competitors' domains in addition to your own. All the research you'd receive on your own keyword performance, you can gather from your opponents' as well.
PICTURED: Here's slide 2 again, and as you can see, the organic research report also has a function to see the organic keywords for your competitors. This way you can see how customers are finding their own ways onto your competitors' pages and try and direct them to your own instead.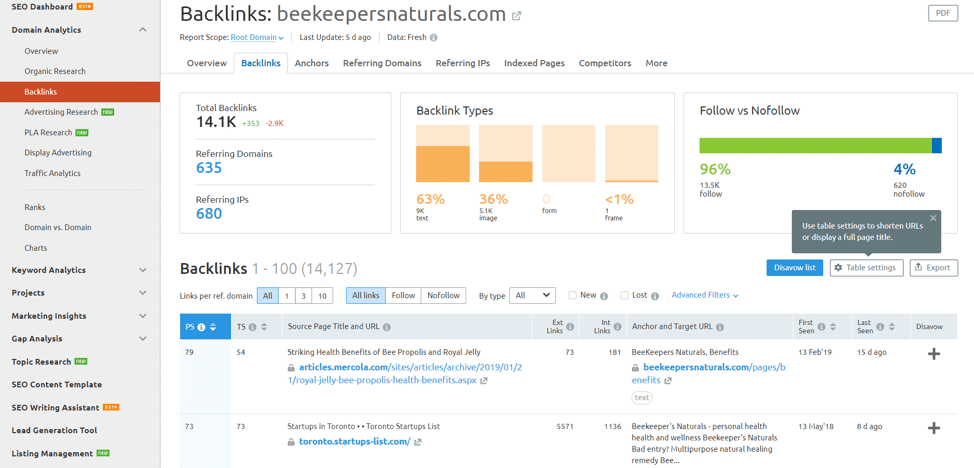 PICTURED: Finally, in this new slide, you can see SEMrush's backlinks reporter. For novices, backlinks are links to your domain that exist on other domains. In the image, the domain in question is www.beekeepersnaturals.com and the top-ranking feeder link, also called backlinks, are found at www.articles.mercola.com and www.toronto.startups-list.com
Like the other two tools above, you can enter the domain of the competition, and see where their most productive backlinks are placed. Why would this be helpful to know?
There is a whole field of content marketing called shared media, and it means the traffic and exposure one can accrue for their product, brand, content, or platform from spreading their content on other publications of note, like newspapers, review blogs, and e-commerce platforms like Home Depot or Amazon.
In summary, you can see where your competitors are getting published, and seek publication in the same places.
In Conclusion
There's a lot to gain from tools like SEMrush when trying to establish a keyword strategy for your domain's SEO. Get creative and be patient and spy on your competitors are some good lessons to take away, especially the spying part.