What started out as a social networking site where fans could follow celebrities, post updates and interact with each other has evolved to become a marketing platform. Yes! I'm talking about Twitter, the social media platform with over 328 million active users, ranked the ninth largest social network in the world. Use these Twitter marketing tips a your next marketing tool.
Twitter is a great marketing tool to promote your business, and since it's all about conversations, Twitter is an excellent way to engage with your customers.
Visibility is the Holy Grail of online marketing, and the strategy for improving visibility varies for different social media platforms. When it comes to twitter, there are 7 key factors. 
Content that strikes
We have talked about how Twitter is essentially a conversational platform. The key here is to give your followers something to talk about. Post content that is intriguing to your followers. Dig deep into your niche and come up with ideas that are likely to catch on. This will help boost your visibility, organically. You could use a content curation tool to help find newsy and intriguing content.
Tool Recommendation:
DrumUp is a social media management tool that also doubles-up as a content curation tool to save you loads of time. The tool delves deep into your niche and sifts through a staggering amount of content based on keywords you choose to bring out great choices of posts to share. DrumUp also allows posting content across multiple social media accounts, so you can directly share schedule (custom or 1-Click schedule) suggested posts to be published on your accounts.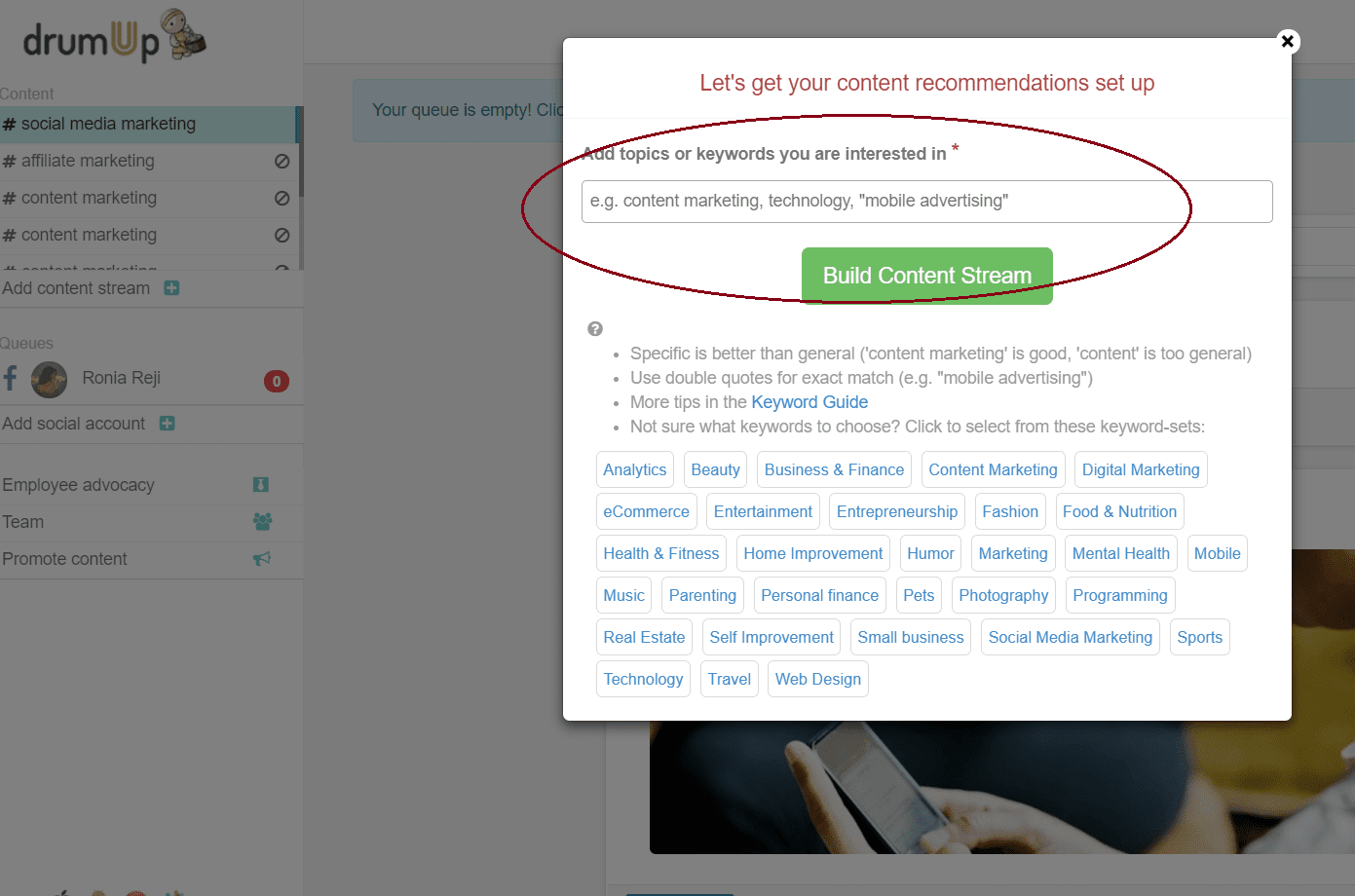 2) Hashtags and @Mentions
Don't forget the importance of hashtags and @mentions in your tweets.
Mentions are used to draw the attention of other Twitter users. They are effective in increasing the visibility of your brand, and if you happen to mention another Twitter user in a good context, he/she is likely to return the favor by engaging with your content. For instance, when sharing a post that mentions Oreo, you should probably @mention Oreo.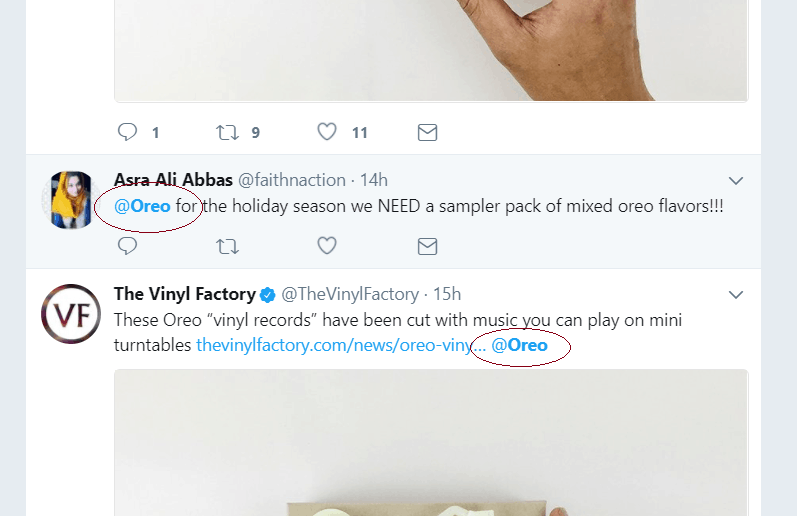 Use @mentions wisely. For instance, if you are tweeting a tennis update and happen to know that your client enjoys tennis, you could @mention them following the text in your post.
Never use random @mentions to get more engagement on posts.
Hashtags are used to label a particular topic of conversation. By labeling conversations, you make them visible to people searching for those types of conversations.
Hashtags are also a hit when it comes to branding. When you create a unique hashtag, you provide your brand with an identity on Twitter and give fans the opportunity to talk about you and your activities.
Hashtags can also connect you with the whole of the general Twitter community and boost your reach greatly. For instance, #FF or FollowFriday is a hashtag that was created way back in 2009. Today, #FF has 539 million users and Twitterati use the hashtag to recommend profiles to their followers every Friday.
3) The right visuals
The human brain is wired to process visual information faster than factual information. This means your audience is more likely to remember a message conveyed through relevant visual content rather than long panels of text.
Studies show that tweets with captivating images get 18% more engagement and 150% more re-tweets. Talk about a boost in visibility. Since tweets are limited to 140 characters, you sometimes run out of space to say what you feel. Including images can give you means to say more than what the 140 characters accommodate. Infographics and video content are also great visual formats for tweets.
For instance, Jimmy Kimmel of TV show Jimmy Kimmel Live runs a segment where celebrities read tweets about themselves. He then tweets a preview of a video of celebrities doing that for his followers. These tweets receive a large number of likes, re-tweets, and replies, from the celebrities themselves, their fans and Kimmel's fans.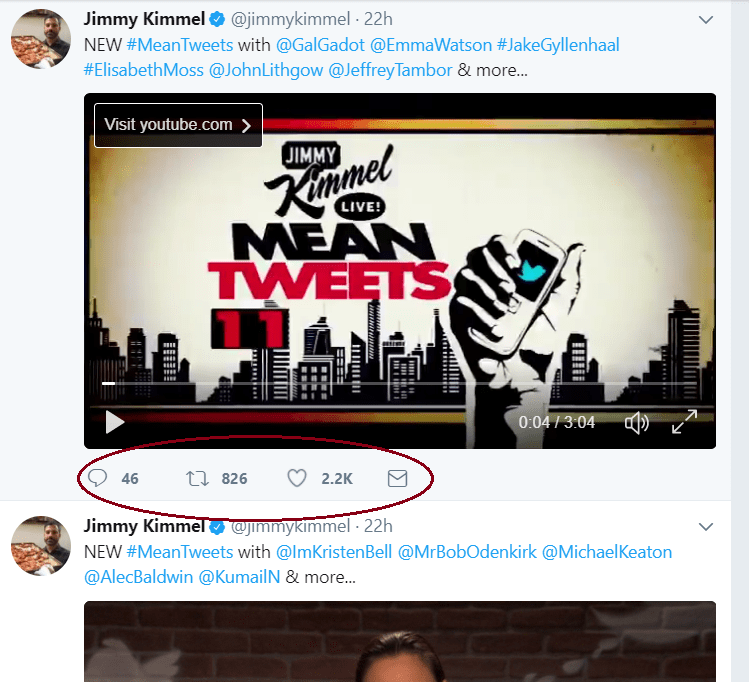 4) Conversations matter 
It's useful to note once again that Twitter is a conversational platform. An obvious tactic to boost your brand's visibility is to simply join conversations. Search for hashtags related to your niche or topics that are most talked about by your followers.
Tool recommendation:
Hashtagify, a hashtag analysis tool suggests hashtags related to keywords you input. You can use these hashtags to look for relevant conversations on Twitter.   
Pay attention to the community participating in tweets related to your niche. A large number of Twitter users who participate in such conversations are likely to have similar interests as you and may follow you. This strategy of participating in relevant conversations not only boosts your visibility but also builds your network.
Once you have built a community of conversationalists around your brand, its important to acknowledge every participant.
Taco Bell, for instance, has a great feed where people are constantly posting content around the brand. Their conversations are sometimes even joined by celebrities. Taco Bell's social media managers acknowledge every participant's contribution to conversation, and many times, these witty and timely responses go viral.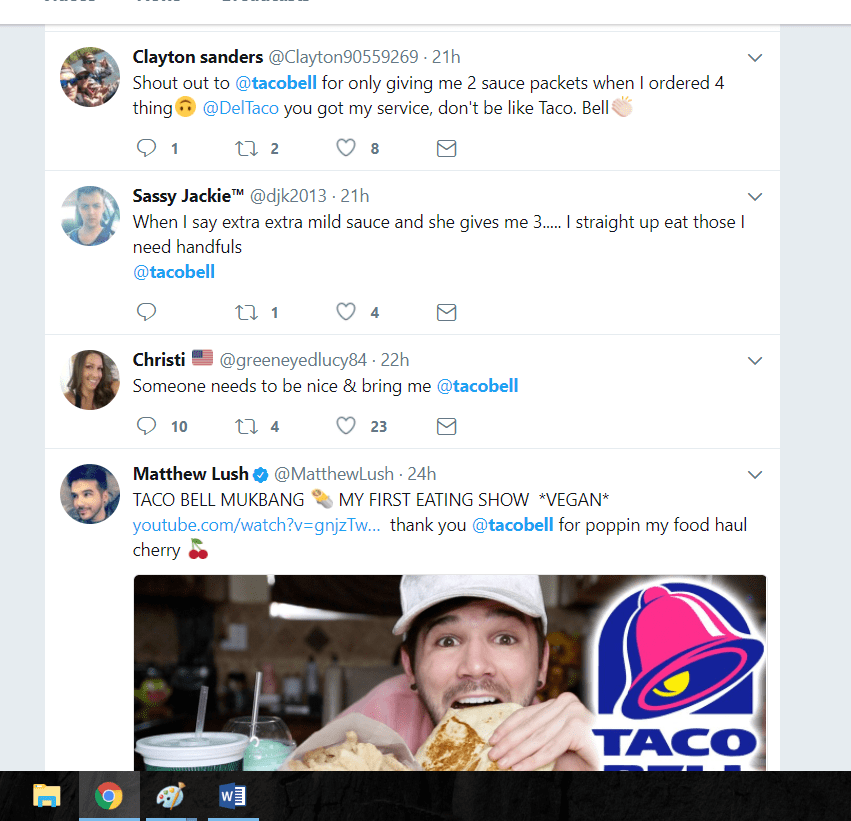 5) Time it right 
If your ultimate goal is to boost visibility for your posts, then you should make sure that you tweet at an optimum time. Your tweets should reach followers around the world at a time when they are online to drive the maximum engagement for your posts.
The frequency of your tweets matter as well. It should drive engagement but not drive your followers away. Studies show that a frequency of up to 3 tweets a day is used by most brands to drive engagement. As for the optimum time to post, research shows that tweets drive more engagement during weekdays between 12 P.M-3 P.M. 
6) Link smartly
One of the best ways to boost visibility through twitter is to place links strategically in your tweets. A study has found that links placed towards the beginning of a tweet has a higher click-through-rate than links placed towards the end of the tweet.
Another important strategy is to take advantage of a reader's curiosity. When you tweet a link, give a brief introduction to your posts, not too much, just enough to highlight the relevance of the content and at the same time, build a sense of curiosity to discover what's next. This encourages your readers to click on the links in your tweets. Also, don't forget to include links in the description box.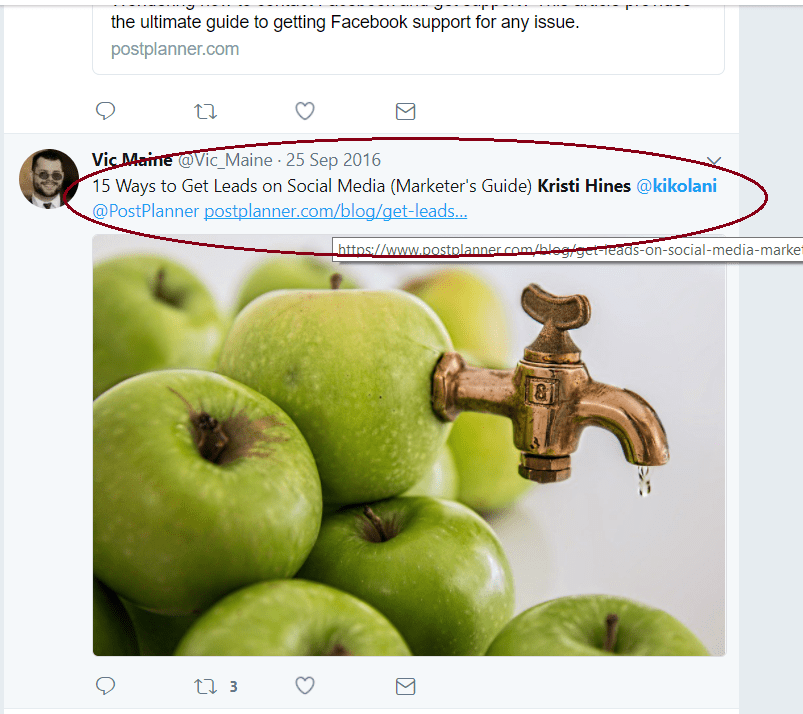 7) Engage with influencers 
One of the best tactics of marketing is to appeal to your influencers. Closely follow your powerful influencers as they will promote you and build your credibility. Engage them and mention them in your tweets.
You could use Twitter lists identify influencers and maintain relationships. Look at the Twitter lists created by colleagues or peers. If they're Public Lists, you can subscribe to them, follow influencers and interact with their content.
Many businesses struggle with creating visibility on Twitter, being a quick-paced social media platform. With the right tactics and tools, however, one can boost his/her reach, visibility and engagement on Twitter.