I'm a freelancer and a business owner, but I'm also a sponsored blogger. I have been since 2007 when, as a 22-year-old comic art academy student, I decided to give paid blogging a try and perhaps make a few dozen bucks a month to spend on domain names and cellphone credit.
A good idea, but in retrospect, content quality was poor. My first sponsored posts were more like short blurbs than interesting, fun posts my readers would love. I stuck to advertisers' guidelines too literally, winding up with empty writing that sounded like a sales pitch and didn't really connect with my readers.
Joe Lazauska (Editor in Chief, Contently) wrote an eye-opening post in July about the risks of deception and distrust connected with sponsored content. Deceptive content makes readers run. In 2008, I had a few of my readers prompt me to "write about my life again" because they were sick and tired of sponsored posts. Needless to say, it was a wake-up call to rethink my approach to sponsorships.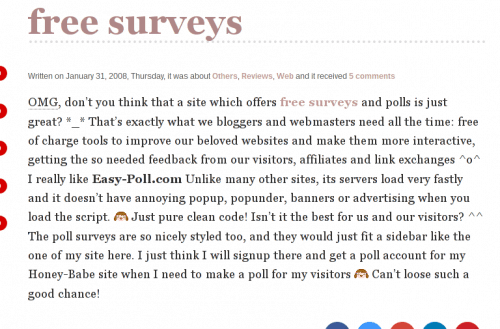 Advertisers who work with inexperienced bloggers run the risk of being associated with this type of sponsored content. As someone who understands both sides of the advertiser-blogger relationship, I hope my insider's advice can help you – bloggers and advertisers – avoid deadly mistakes that will mark your sponsorships as spam and lead you to lose your target audience's trust… for good.
Disclosures: The Blogger Way Or The Advertiser Way?
Misunderstandings and lack of clarity about disclosures can lead to sponsored posts that are not entirely compliant with FTC guidelines and could create conflicts with readers as well as negatively affect the blogger's reputation.
The issue here is twofold. On one hand, the advertiser may fear the effects – real or perceived – of the disclosure.
Will a disclosure lead my company to get banned from Google?
Will a disclosure lead readers to skip the sponsored post entirely?
Or, it could be that they simply don't know how to advise the blogger on disclosure best practices.
Either way, the inherent risk in these concerns is losing money and brand prestige over a deceptive ad.
On the other hand, the blogger may fear that a disclosure could lead to a loss of their readership's trust, resulting in lower traffic, a damaged reputation and – over time – revenue.
Transparency Wins

Generally speaking, a good disclosure for native advertising tells the reader exactly why the blogger chose to sponsor that advertiser's product or service.
For example:
Today's post was sponsored by Company X, a company that I found interesting for reason A and B. In this post, I will discuss C and D, something Company X can help you with more than I can. I hope you enjoy this collaborative post! Let me know if you have feedback for them, too. I'll be happy to pass on the word.
The disclosure should answer two questions:
What's in it for the reader?
Why does the blogger trust the advertiser?
Cormac at IBeacon Blog advises the use of a shareable disclosure policy. "Generally, I'd try to avoid spammy anchor text – simply because in the long run it's most likely going to hurt and really stacks the cards against a person. If I do receive content for publishing, I often find it's more advertorial than guest post and I ask them to re-write it. Other than that, I like to have a fair degree of creative authority over the post to prevent it from looking advert based."
Cormac adds, "One of my favorite sponsored blogger disclosures comes from Selfish Mom. The disclosure has 15 levels allowing the reader to neatly see the level of sponsorship, if any, behind the blog post. It's all pretty self-explanatory, yet doesn't require her to go into length describing what the relationship is [at the beginning of the post] because the reader can reference the disclosure page if they're interested."
Link Quality: Who Should Run The Risk?
Over the years, I've had advertisers contact me to update a sponsored post with spammy anchor text in an effort to gain authority in the eyes of Google. Some still do it today, despite Google's explicit shunning of the practice. There are even some advertisers who insist that the sponsored post contain no other links but the assigned ones, afraid that additional links will 'steal' link juice away from the brand's website.
However, all they obtain is the opposite effect: readers don't pay attention to text containing blatantly manipulative links and Google doesn't take too long to act against link spam, so it's likely that the sponsorship will damage both the blogger and the advertiser.
The middle ground is in editorial links and anchor text. When the advertiser gives carte blanche to the blogger, both links, and the text assume editorial context, and this is fertile ground for an effective ad.
Story Angles: Go With The Standard Or With The Most Effective?
As a blogger, I know my readers, more than any advertiser ever could. When an advertiser insists that I cover a certain story angle when I have another, more effective angle in mind, two situations usually occur:
The ad ends up as a waste of money for the advertiser because the story angle doesn't match the audience's needs.
A conflict arises that damages current (and any future) relationships – especially when the insistence is on a sales pitch thinly veiled as an actual story.
David Leonhardt at THGM Writing Servies says that his secret is to keep the story angle 100 percent real: "I have a very simple rule", he says. "If I don't like the product, I won't write about it. If I like it, I will say what I think. That keeps me honest, without biting the hand that feeds me."
For a sponsored post to really work, it should carry a blogger's genuine opinion. As Tat at Mum In Search says, "I only accept posts that would be of interest to my audience from brands I feel good about promoting to my audience, which is why I say 'no' to most of the opportunities that come my way. The advantage of being selective is that it makes ethics really easy. I can just write what I truly believe and I don't have to tweak my own opinion to please the advertiser."
Communication: Build Solid Advertiser-Blogger Relationships
As a blogger, many relationships I found myself in were of the "advertiser orders, blogger provides" type, with no real human communication at their core.
Without communication, misunderstandings are bound to arise and they might mine both future opportunities and the effectiveness of the ad.
And if the advertisers use a sponsored reviews network, the damage could be even more pronounced. Below is an example:
The advertiser wanted me to strictly adhere to the keywords they provided me through the network, but I was aware that by doing so I would lose readers on my blog. Because I refused to comply, the advertiser reported me and the network banned me.
Where's the Middle Ground?
The solution is a collaborative approach between advertisers and bloggers. Since both parties care that the ad is successful and trustworthy – that is, desirable to readers – they should be able to work together.
Experience has taught me that no good can come out of sponsored content produced by a one-way relationship. Only a mutually beneficial partnership between two professionals can give life to sponsorships that work.
Advertisers: Don't force your bloggers to write about something in a certain way.
Bloggers: Don't compromise your ethics for a bunch of bucks.
And most importantly, both of you: Put your audience first.