Audience analysis should underlie entire top-of-funnel content marketing campaigns. Too often, marketers separate creation from production, and throw a piece of content over an imaginary wall to a promotions team. In excitement to market with content, we forget to understand who the content is for, why it exists, what the reader should do after consuming it, and how it will be found.
A successful content promotion process starts with audience analysis. Marketers learn what type of content works in what communities, and who shares it. Then, they follow through with integrated creation and promotion plans based on these insights. This approach gets better results and reduces the risk of content marketing failure.
Before even brainstorming, research is needed to answer questions like:
Where do I need to appear to reach and be trusted by my target audience?
What topics and content types "work" on those publications?
Let's start connecting those questions to actionable insights you can get from digital marketing tools.
Understanding Your Customers (and Potential Customers) Content Consumption and Sharing Habits
We'll start by building a profile of who we want to reach—and where we'd need to be to reach them:
What publications do they read? What do they share?
What are key commonalities in content they share?
In another day and age this would be a complicated and expensive project. But thanks to the magic of the Internet (and venture capital) you can do this for free, almost instantaneously, with data you already have.
Using FullContact to Turn Email Addresses into People
FullContact is perhaps the most powerful and least widely known technology in holistic digital marketing today. Their API is a treasure trove of data for marketers.
FullContact collects data from around the Web and, via its API, it can send you a list of network handles associated with a particular email address. That includes mainstream networks like Twitter and Facebook and niche offerings like AngelList, GitHub and Dribble. To learn how to use an API, check out RapidAPI's guide.
A good place to start with audience analysis for top-of-funnel content marketing is to use FullContact to see what your best customers are doing on social: what content they're sharing, saving and interacting with, as well as who they follow.
The easiest way to do this is to use FullContact's person enrichment spreadsheet (look for it on the page of libraries here), get a free API key and copy and paste some of your email addresses into its spreadsheet. The rate limits are low on the free version, so only copy over a few email addresses at a time.
Next, examine the data you get back. What social media platforms are your customers using? What do they share? Who do they follow?
If you are a glutton for punishment or just really like Excel, use the method pioneered by our friends at Builtvisible. The process involves mass analysis of tweets and Twitter accounts to find the highest performing publications across your entire customer base.
This process shows you what kind of content engages your customers enough to share. However, keep in mind sharing and purchasing are different; highly shared content may generate small fractions of the business that less socially active content generates. Sharing is an identity creating behavior – it represents what people think others would want, over what they want to buy, especially in a B2B context.
Now that you understand what sort of content your audience shares and reads, it's time to see which pieces work well on sites with that audience.
Using Social Crawlytics
Social Crawlytics gathers every URL on a website and looks at social APIs to determine which are the most popular and most shared.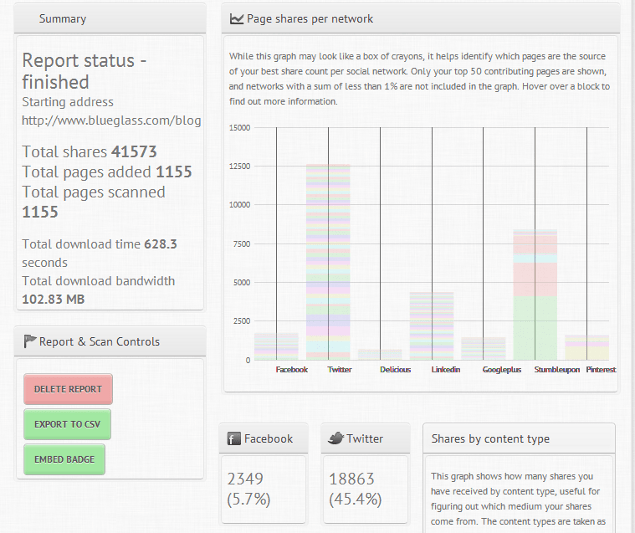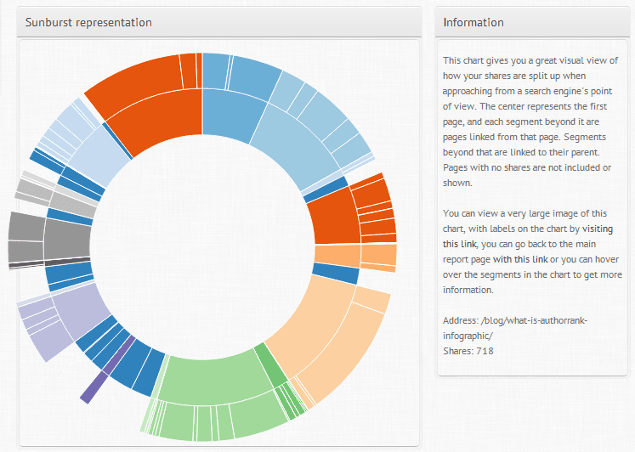 This report gives you an instant view into which topics are most important to your target audience and which they don't care about. When performing this analysis, topic and form are the two most important elements to examine.
You can also start putting stories in buckets to determine who the most popular and influential authors at a given publication are. (I've written about using Social Crawlytics for competitive content intelligence previously on the BuzzStream blog.)
Understanding Your Content's Competition with BuzzSumo
Buzzsumo is a new tool that does a great job of analyzing popular content across topics and keywords. It can search by both influencers and topics across websites.
If you want to see, for example, the most shared content across sites about the BYOD (bring your own device) paradigm in IT management, you can:
You can use BuzzSumo to look at the content your customers share on social (using the FullContact data mentioned in section 1). Now you can also see who else has shared a given piece of popular content—this can be powerful for both social prospecting and selling, as well as for building outreach lists.
Analyzing Your Audience is Necessary – And it Doesn't Have to Be Expensive
These three tools are great approaches for quick-and-dirty social audience analysis for content campaigns. They can be augmented with your own data and much more thorough approaches. Remember to analyze your audience before you start creating your content.