There are quite a few people who run their own blogs these days. They do everything, from the layout to maintaining the technical side, to writing the posts.
While I do have a personal blog, I much prefer to have a group blog, where I can have support of co-writers and delegate certain work to others. Especially in areas I am not so knowledgeable in.
I have worked a lot with group blogs for this reason. They are a great way to widen the expertise and get a more robust tone for your site. Other writers can add a different flair to your posts, and contribute something special. Plus, you don't have to shoulder all the burden of responsibility that comes with owning a blog.
Here's how to start and market a group blog:
Step 1 Pick Your Platform
Here are three ways you can create a group blog, and some tips on how to market it. I have personal experience with all of them, although my personal preference is the first one.
Use WordPress
Of all blogging platforms WordPress is the most popular. Not only is it free to use, but those paid features you might want are very cheap, and most plugins cost nothing at all. It is easy to customize and use, even if you know nothing about computers. Everything you have is totally guided, and that is perfect for the average blogger.
You can add authors, moderators and administrators on the main dashboard. Just invite them through email, and they will be able to create their own About Me page and change things like passwords. But what is great about WordPress is that as the admin you can post as any writer by changing the name on the post edit box.
Here are a few plugins you may need when setting up a personal blog on WordPress:
Use Tumblr
Tumblr is a great platform if the bulk of your posts are going to be visually based. While it allows text to be used, most people are there to find images or videos. These have a wide appeal for reblogging, and the main demographic seems to be young, such as pre-teen to young adult. Of course, that isn't exclusively who uses the site, but if your niche is aimed at those ages then this is definitely the platform for you.
When you sign up, you will be doing it under a primary name that will be used as your Tumblr ID. You will then create a new blog, which will be the secondary profile associated with that ID. All future blogs should be made under that original account, as it will make it easier to manage multiple blogs that way.
Now that you have that done, go to the account dashboard and select the group blog. Go to Members, then put in each email address for the people you want to collaborate. They can follow the invite link to become an official member of the group blog. They will now be allowed to publish posts, and you can upgrade them to administrators if you wish. That will give them full access to edit the blog itself.
To allow anyone to publish posts, just select 'allow submissions' on the dashboard page. Keep in mind that your co-writers will be able to "leave" your blog without any notice but their content will still remain on your site. Here's more info on that: How to Delete Tumblr Account and What Happens When You Do
Use Blogger
If you don't know, Blogger is Google's somewhat unloved child. Still, many people enjoy it because it has been synced with all Google services, making it faster to access different programs. Blogger is pretty easy to use, and it can be made public or invite only without any trouble. So if you are looking for something more private or selective in its readership, this could be for you.
To create a group blog you would just set up the account and blog itself the way you normally would. Just follow the registration details on the main page. Then go to Settings|Basic and select Permissions. From there you can put down who is allowed to publish posts (in Blog Authors), and who is allowed to read if you are keeping it private (Blog Readers).
Anyone invited can follow the emailed link to verify their address, and customize their information from the author dashboard. You can select whether they are contributors or admins.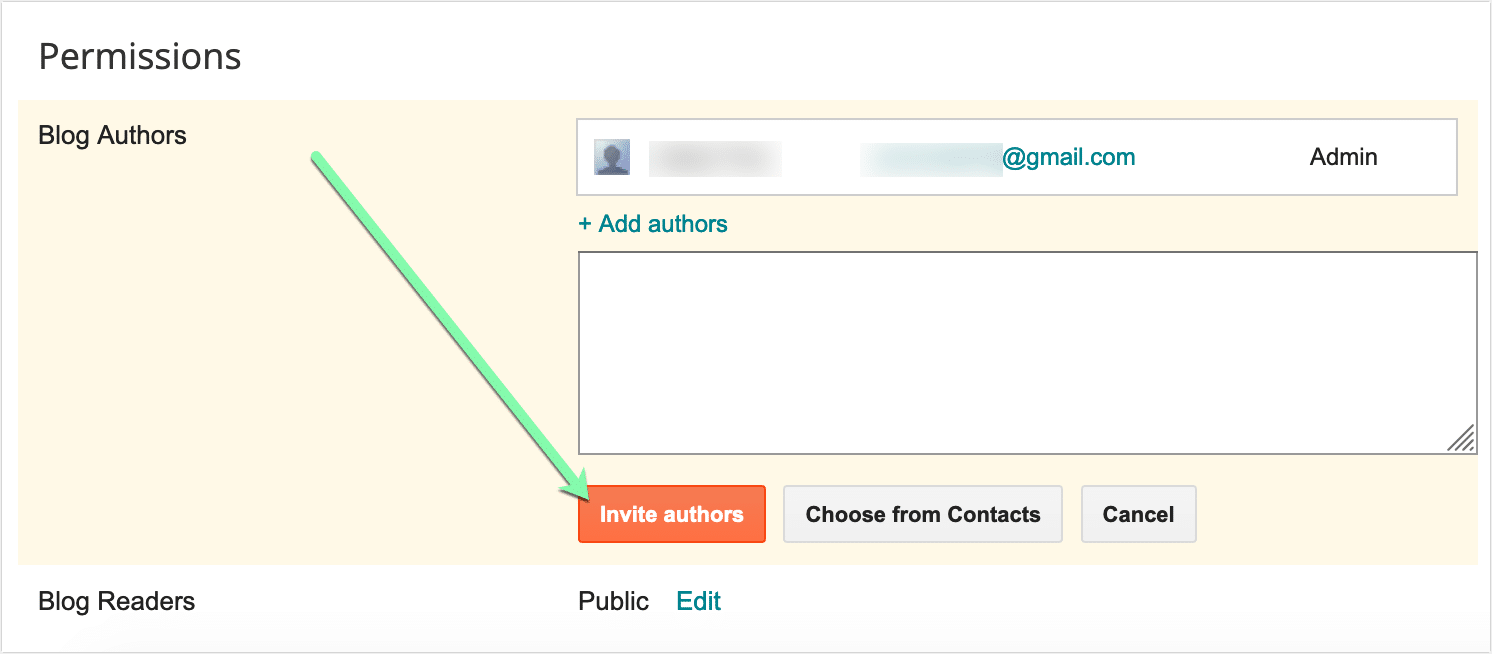 There are many more SaaS platforms that offer collaborative content management features but I haven't used all of them enough to recommend.
How To Use a Group Blog For Marketing
You will be able to use a group blog for marketing in the same way you would a single person blog. However, the unique element to a group blog is that you have more people using the same tactics. This raises your chances of increasing visibility in a very significant way.
Not only do you have more content available, but you can also encourage your writers to share one another's content on social media, manage umbrella social profiles and more. It is a group effort, and the results will show the benefit.
To make this happen, use ContentCal that allows co-workers and co-writers to manage brand-owned social media channels from a single dashboard. Simply invite your writers as contributors and remind them to add social media updates on a daily or at least weekly basis. You will be able to review and edit every update before scheduling it to go live. This ensures consistent quality of brand-owned content:
On top of all, you need to make sure all your group blog content is well optimized for Google. You can achieve that by allowing access to Text Optimizer that prompts writers to create more in-depth, better optimized content by encouraging them to include related concepts into their article: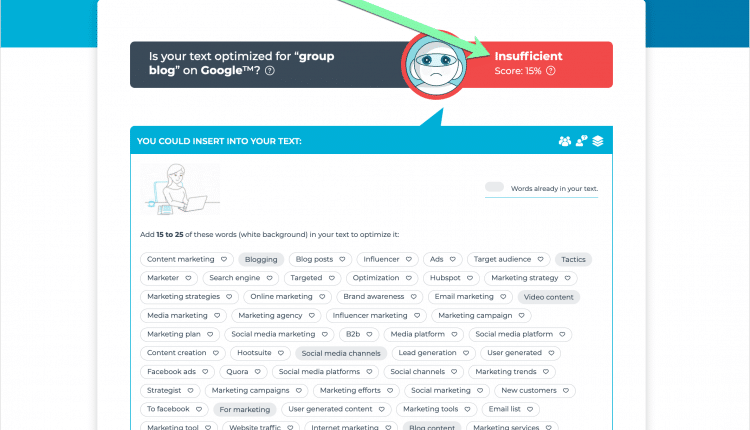 Make it a requirement for your writers to score at 70% minimum. This ensures that their content will meet Google's and its users' expectations
Furthermore, you may want to also set up a collaborative visual asset creation dashboard as you want your writers to create eye-catching images to be included in their content.
Some options include Venngage (which allows to set up a brand kit allowing teams to create consistently branded visual content) and InVideo that allows teams to co-created branded video content at as low as $10 a month: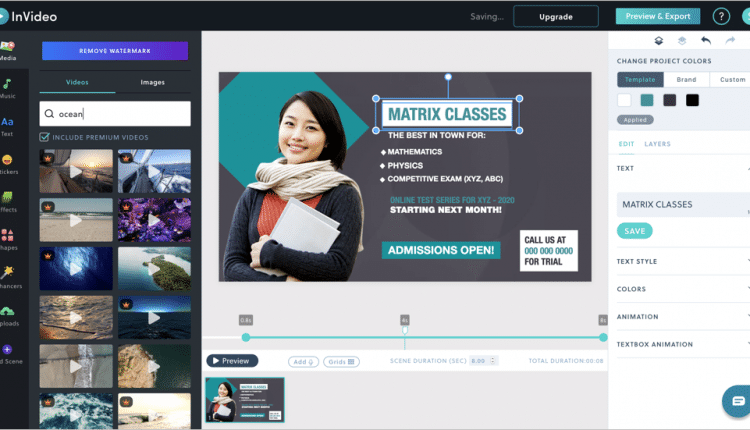 Do you have a platform that you think is best for group blogging? Do you have any tips of marketing a group blog? Let us know in the comments.