In the online world, SEO matters. A lot. Talk of SEO tools, SEMrush and Ahrefs rule the roost. Powerful, resourceful, and packed with features, these tools can truly put you in a powerful position online. No guessing game. You know what your keywords are and how they are performing. Who wins the battle of SEMrush vs Ahrefs?
Both platforms offer a series of laudable features. A few are common to both platforms. A few others are exclusive.
So, what to choose?
To come to an intelligent decision, let's compare the two SEO platforms. However, before we compare, let's have a glance at both the platforms. 
Introduction
SEMrush

SEMrush was originally SeoQuake, born in 2007. You won't believe it, but it started as a Firefox extension and, by 2020, became the biggest keyword database available in the market!
The SEMrush Keyword Magic tool contains more than 18.3 billion keywords for the search engine, Google.
It's one of the most preferred research tools by ambitious digital marketers.
And, by the way, the Firefox extension still exists!
Ahrefs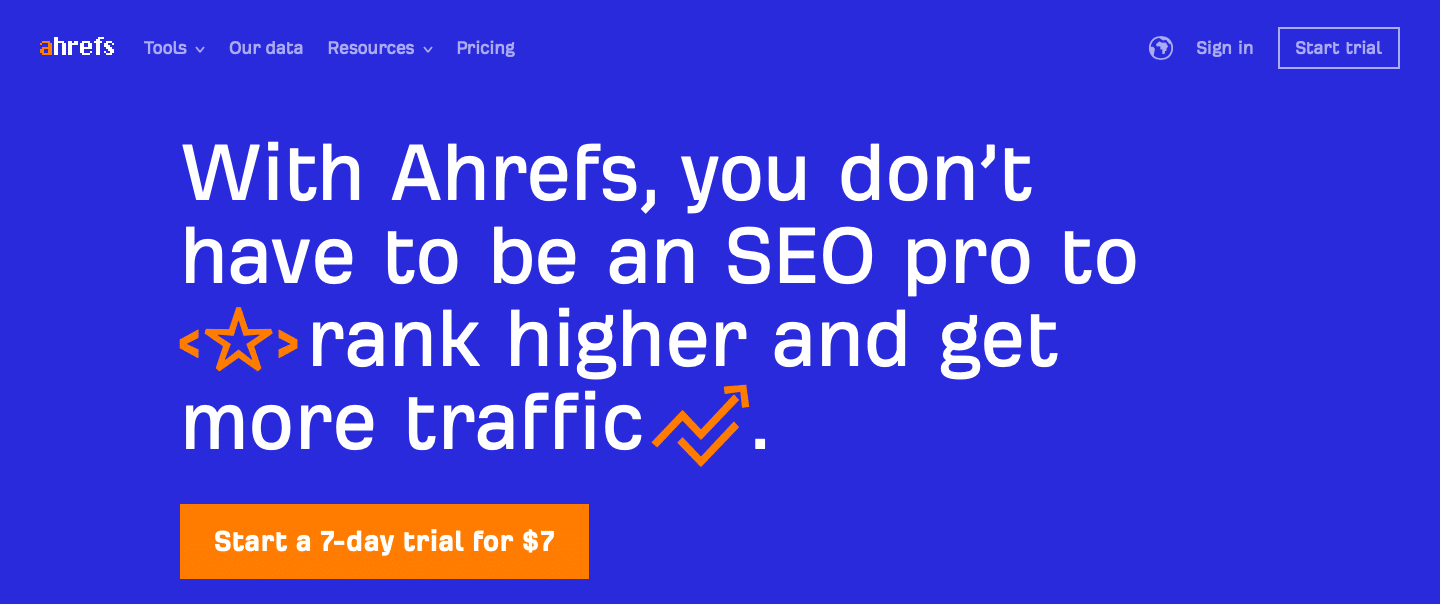 Ahrefs came into existence in 2011. It boasts of an astonishingly accurate link database. Ahrefs has a keyword index of more than 10.3 billion keywords.
It is the most comprehensive backlink index of the world. You can find new data here every 15-30 minutes!
Sense stiff competition here, huh?
Well, why not. Both SEO platforms are full-featured and fiercely competitive in their keyword research, optimization of content, and rank analysis.
Let's take a look at the features of each SEO tool to get a clear picture of what each has to offer.
Features
Most-loved features of SEMrush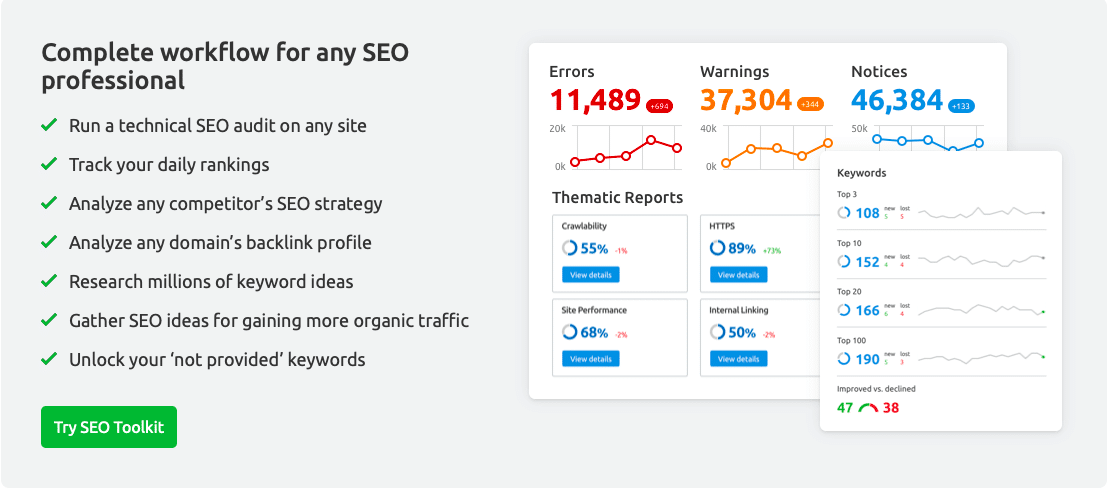 Market Explorer: It reveals your target audience.
SEO Rank Tracker: It lets you know the daily progress and changes in the rankings of a website or campaign.
Traffic Analytics: It gives you a peep at your competitors' traffic.
Backlink Audit Tool: It lets you detect and eliminate toxic backlinks. At the same time, you can detect good sites to get backlinks.
Terrific amalgamation of Google Search Console and Google Analytics.
SEO writing assistant: It analyzes if the content is original and has SEO potential.
It conducts competitor research to extract the best keywords for you.
Its keyword research supports long-tail keywords.
It provides advertising research, which includes relevant keywords for your advertising campaign and ad budgets.
PPC tools and social media tools. 
Start your SEMrush trial today!
Most-loved features of Ahrefs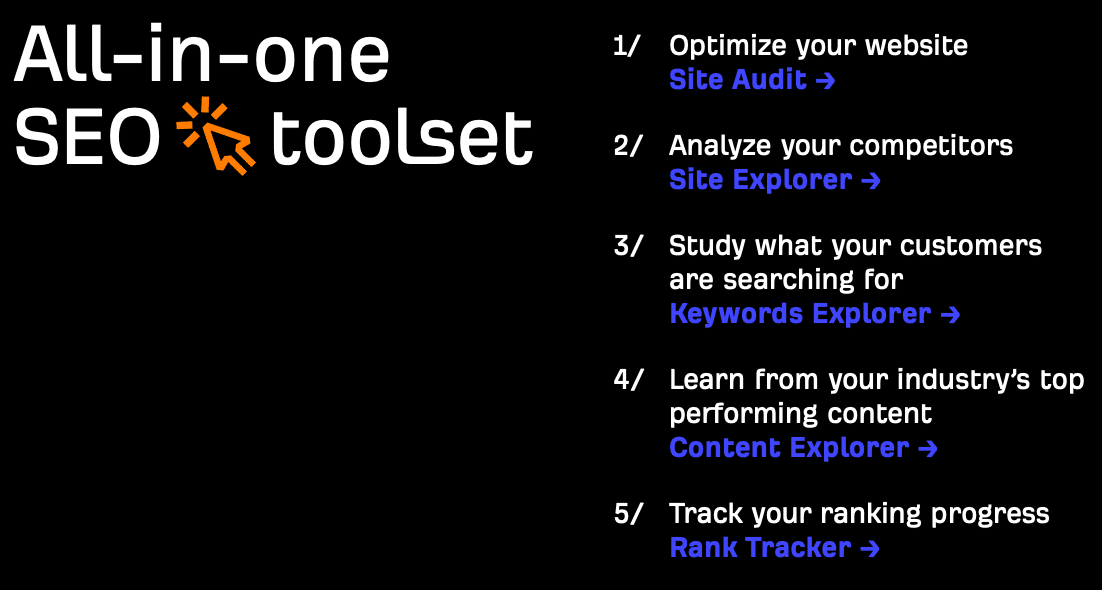 Content Explorer: It gives the best topic suggestions.
It offers customizable alerts for new keywords, backlinks, and others.
Site Explorer: It provides a deep insight into search traffic.
Intuitive interface: It reveals your search engine ranking and your website's general "health."
Site audit and JavaScript Rendering: It helps you find SEO issues.
Reports with charts.
Domain Comparisons.
Aren't the features of both SEO tools impressive?
Well, it still doesn't answer the question: what SEO tool to choose? In fact, both the tools sound so impressive it becomes even more confusing to choose one!
So, let's do an in-depth comparison of both these tools to make it easier to choose between the two.
Comparisons
1. Dashboard comparison
SEMrush dashboard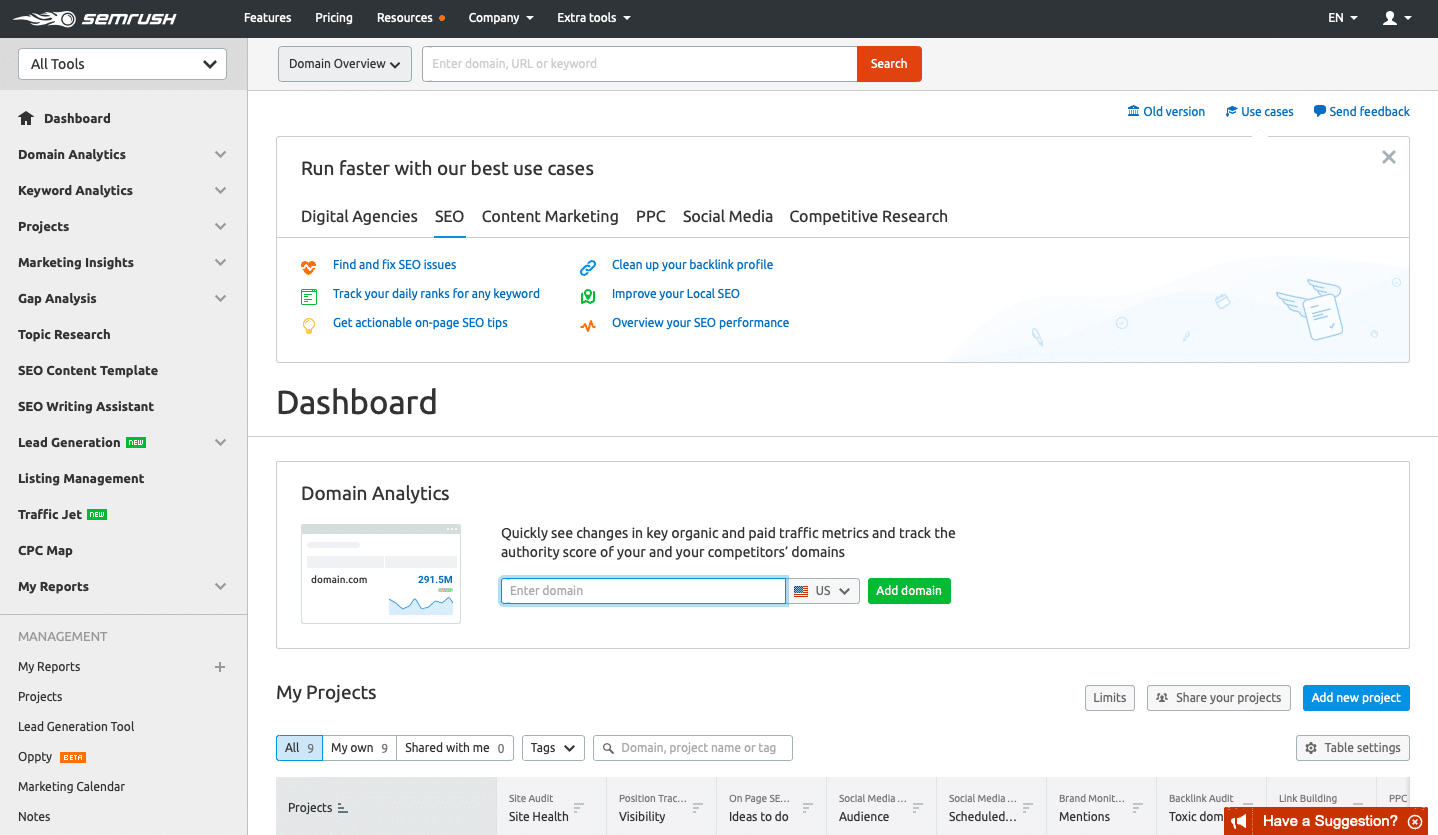 Log into SEMrush and you are greeted with essential tools like search bar, menu, customer support, info about your organic and ad keywords, site traffic, and domain analysis.
You can type a keyword or domain or anything you wish to explore in the search bar. The menu, located on the left, features quick links to keyword analytics, projects, and others.
The customer support is right there on the dashboard, so you can chat with the team. Other resources are blogs, webinars, and more. They come with descriptions; so a beginner, who may not know acronyms yet, can easily use the dashboard without getting puzzled.
Ahrefs dashboard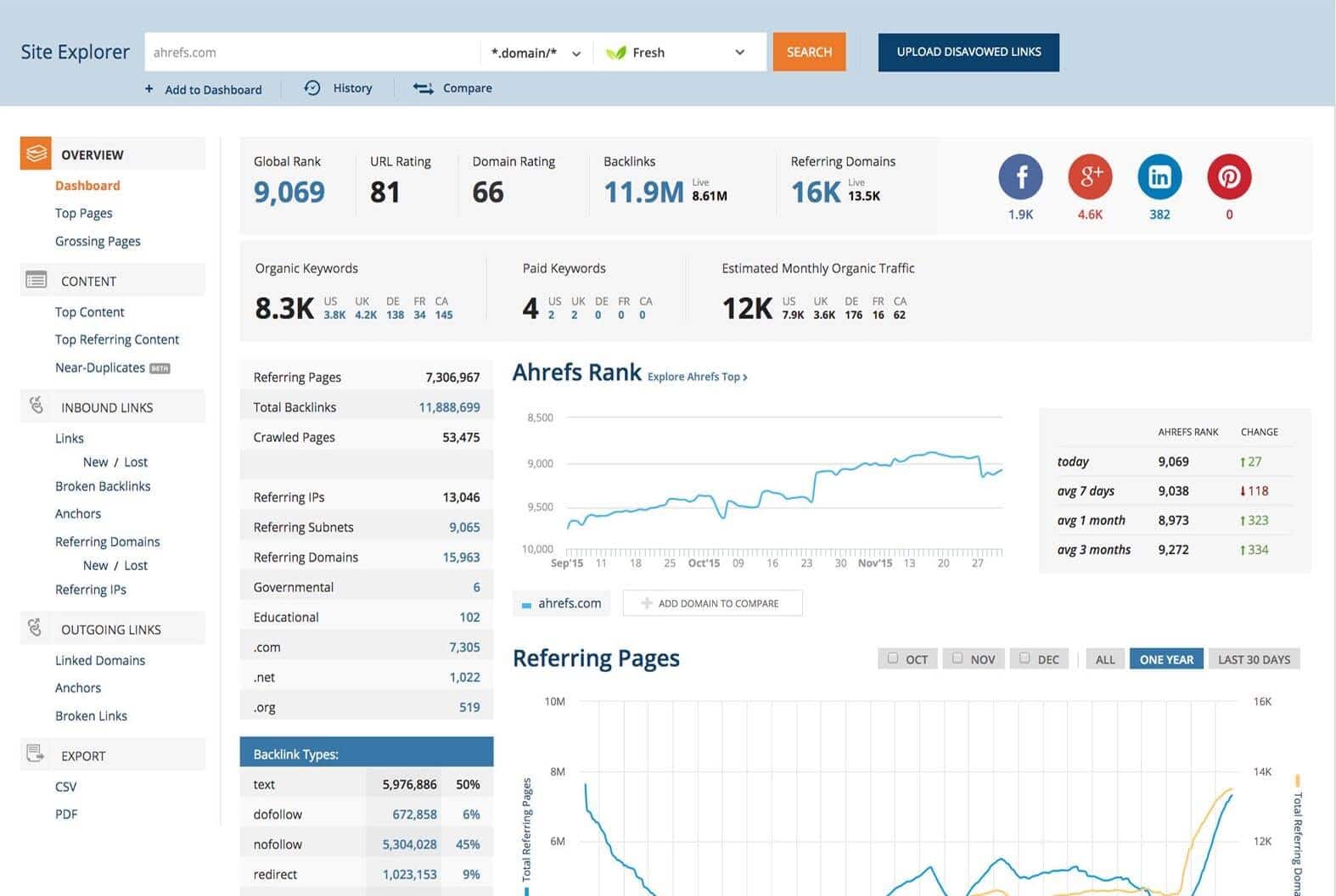 Ahrefs has a cleaner dashboard. You will find the primary menu at the top. Its search bar is only for typing in the domains.
It is easy to go from one tool to another. As you use its Keyword Explorer to search for a keyword, just one click can send you directly to the rank tracker.
Can't understand something? The tooltip helper gives you an explanation.
The dashboard also provides analytics like domain ratings, backlinks, search engine rankings, and others.
The winner
The dashboards of both these SEO platforms are similar in the sense that they offer analytics and reports right there in the front.
If you like to keep things simple: Ahrefs is the winner for its simple and clean interface.
If you like to have everything in the "starters plate," SEMrush is the winner. Its dashboard, while appearing cluttered, gives you almost everything at the start, including customer support.
So, there you go. The dashboard choice depends on your personal preference.
One thing to note here is: SEMrush allows you to start your research quicker through immediate access to the dashboard. On the other hand, Ahrefs demands a little bit of configuration at first.
2. Keyword comparison
SEMrush keyword research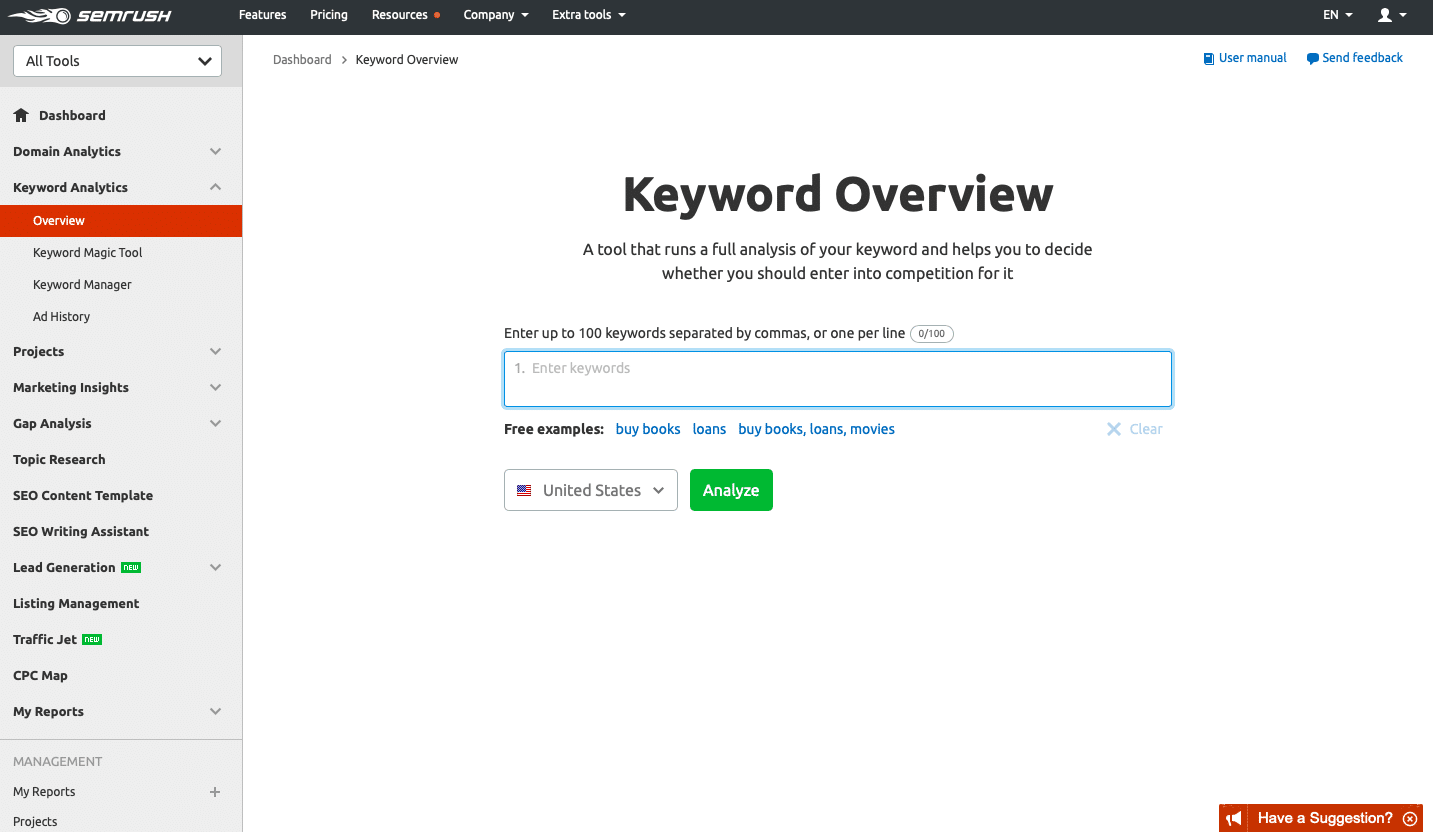 SEMrush offers Keyword Magic Tool with a whopping 18 billion+ keywords for the search engine Google! Enter in any keyword for analysis and you will get a comprehensive list of keyword suggestions.
You can also:
Search exact matches of keywords.
Check keyword performance metrics.
Check data such as keyword trends, search volume, cost per click, and keyword difficulty.
Its Keyword Overview feature lets you enter multiple keywords simultaneously and also analyze them at a time.
Start your SEMrush trial today!
Ahrefs Keyword research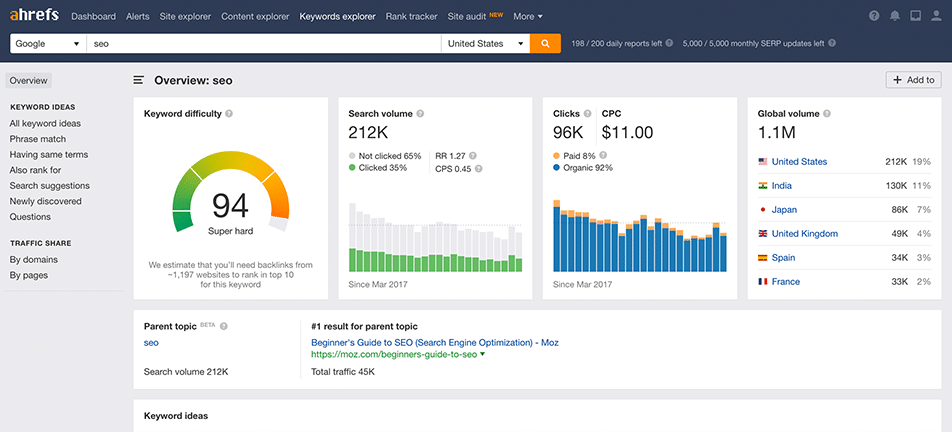 Ahrefs offers Keyword Explorer with innumerable keyword ideas. The platform lets you conduct targeted keyword searches. It also has a feature similar to SEMrush's Keyword Overview.
You can also:
Search for keywords on various search engines like Amazon, Yahoo, Google, Baidu, Seznam, Yandex, Naver, Daum, Bing, and YouTube.
Get keyword search volume and difficulty by clicking on potential keywords, plus find keyword suggestions and other options that you may have not known before.
The winner
SEMrush is the winner in keyword research because it gives more keyword suggestions and alternatives than Ahrefs.
3. Rank tracking
SEMrush rank tracking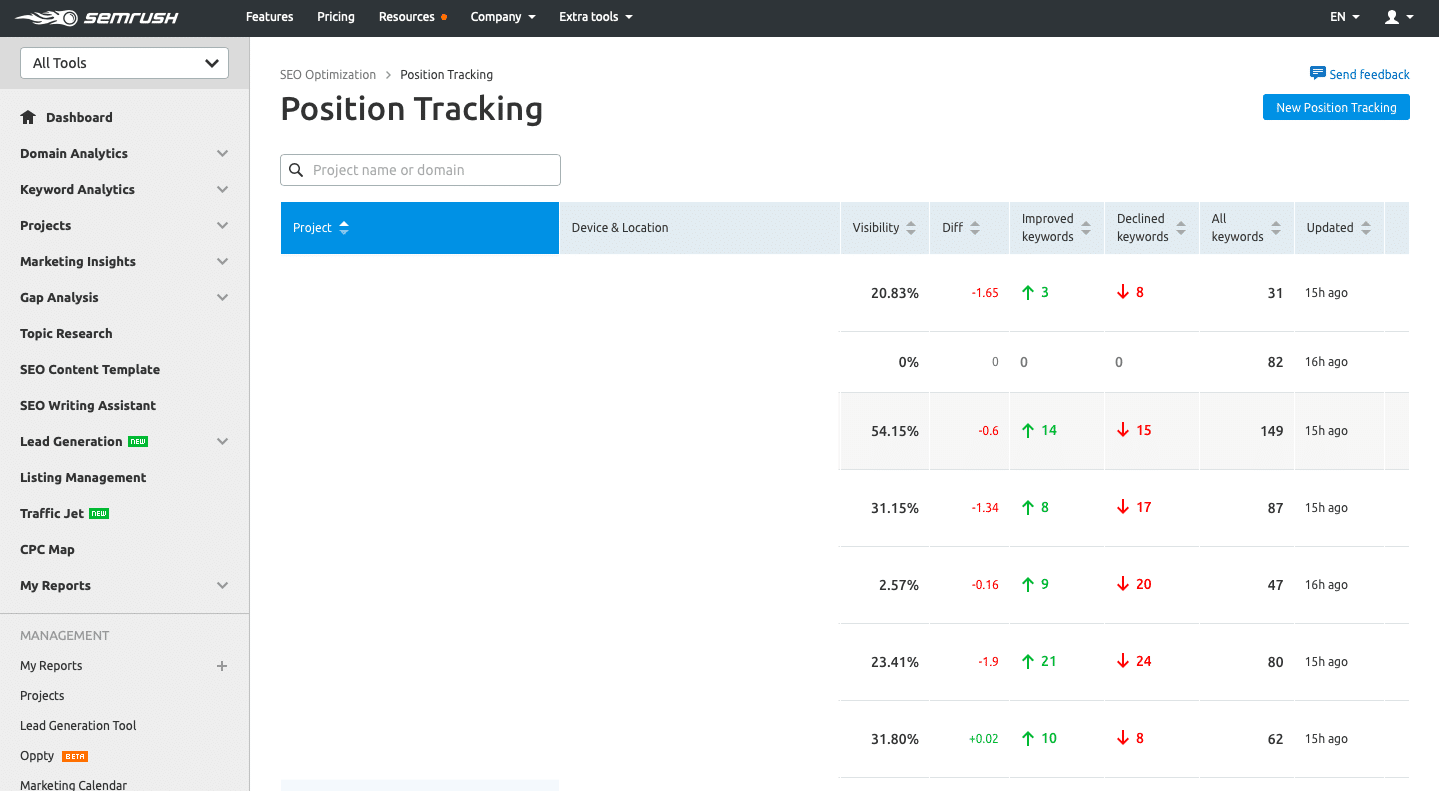 SEMrush offers the Position Tracking tool. It gives you daily updates of data and mobile rankings. You subscribe for the tool and you get these by default. You also get intuitive reports and SERP features like Local Pack Tracking.
Ahrefs rank tracking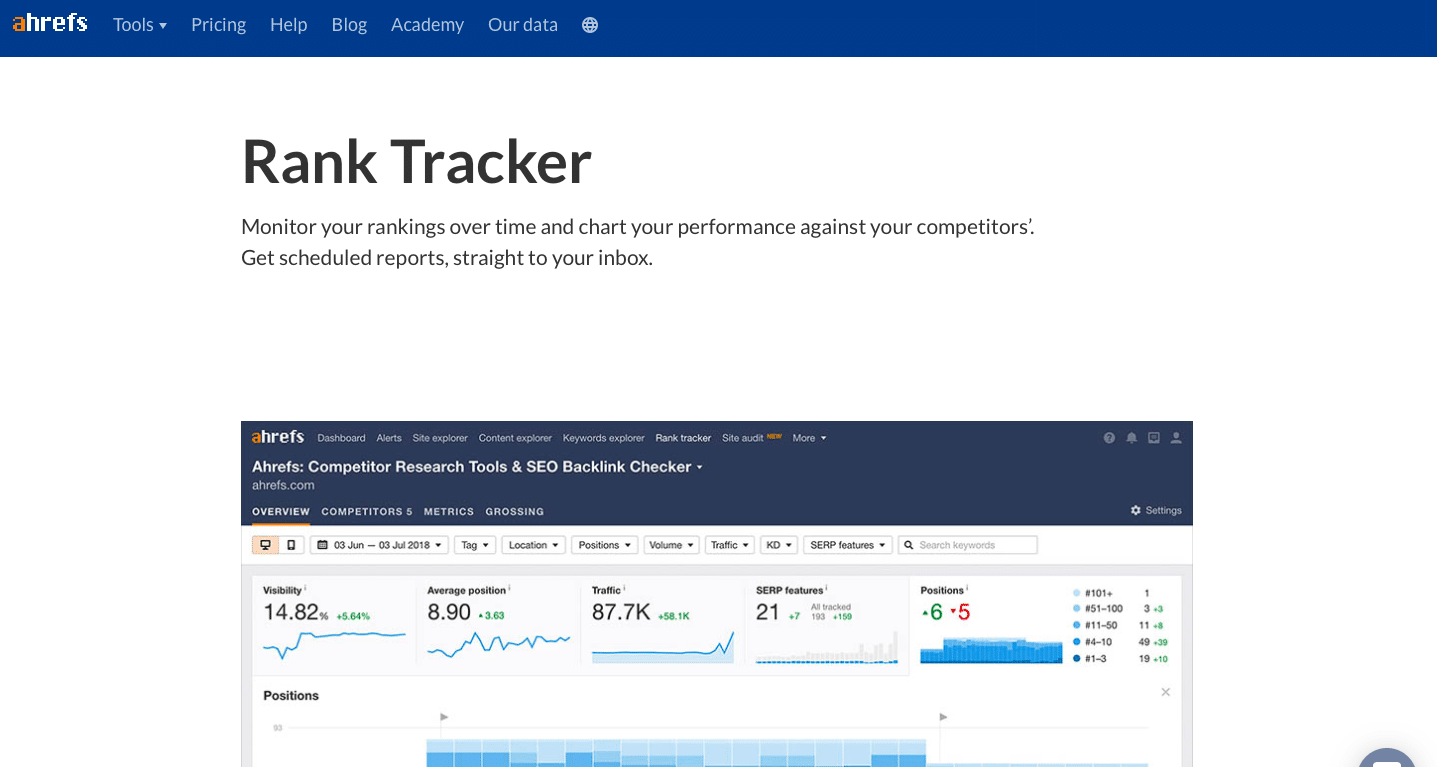 Ahrefs offers Rank Tracker that sees how your ranks are for particular keywords. You get results for traffic, visibility, keyword difficulty, and average position. You can enter the keyword difficulty area and check whether a particular keyword is worth using or skipping.
The winner
SEMrush is the winner because it gives you updated rankings and mobile rankings on day-to-day basis. It also gives social ranking analytics, which is absent in Ahrefs.
Although Ahrefs has an easier to use tool that takes just seconds to type keywords, an ambitious digital marketer may want to squeeze more of a rank tracking tool. In this case, SEMrush wins. 
4. Analyzing competition
SEMrush competition analysis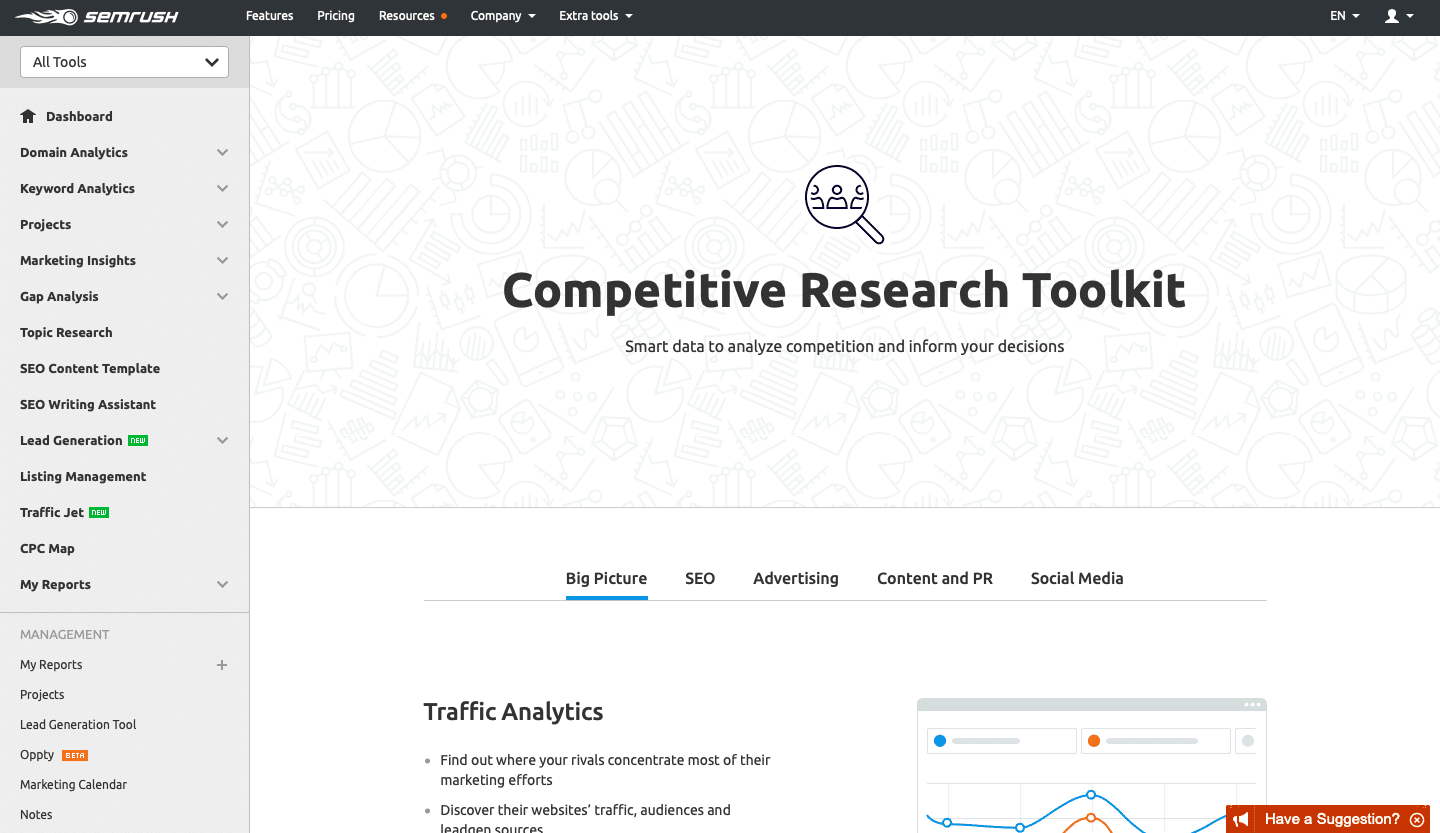 SEMrush provides multiple and efficient tools to "peep" at your competition. Here they are:
Market Explorer: This search bar lets you enter a domain and list articles or websites similar to yours. You can then track the sources and do an in-depth analysis.
Organic Research: It reveals leading organic search competitors, what keywords generate their traffic, whether they show SERP rankings, and others.
Traffic Analytics: It lets you see the source of a website's traffic, preferences of visitors in the use of devices, visitor behavior and what interests them on the site, overlapping of audience of multiple websites, and lots more.
Ahrefs competition analysis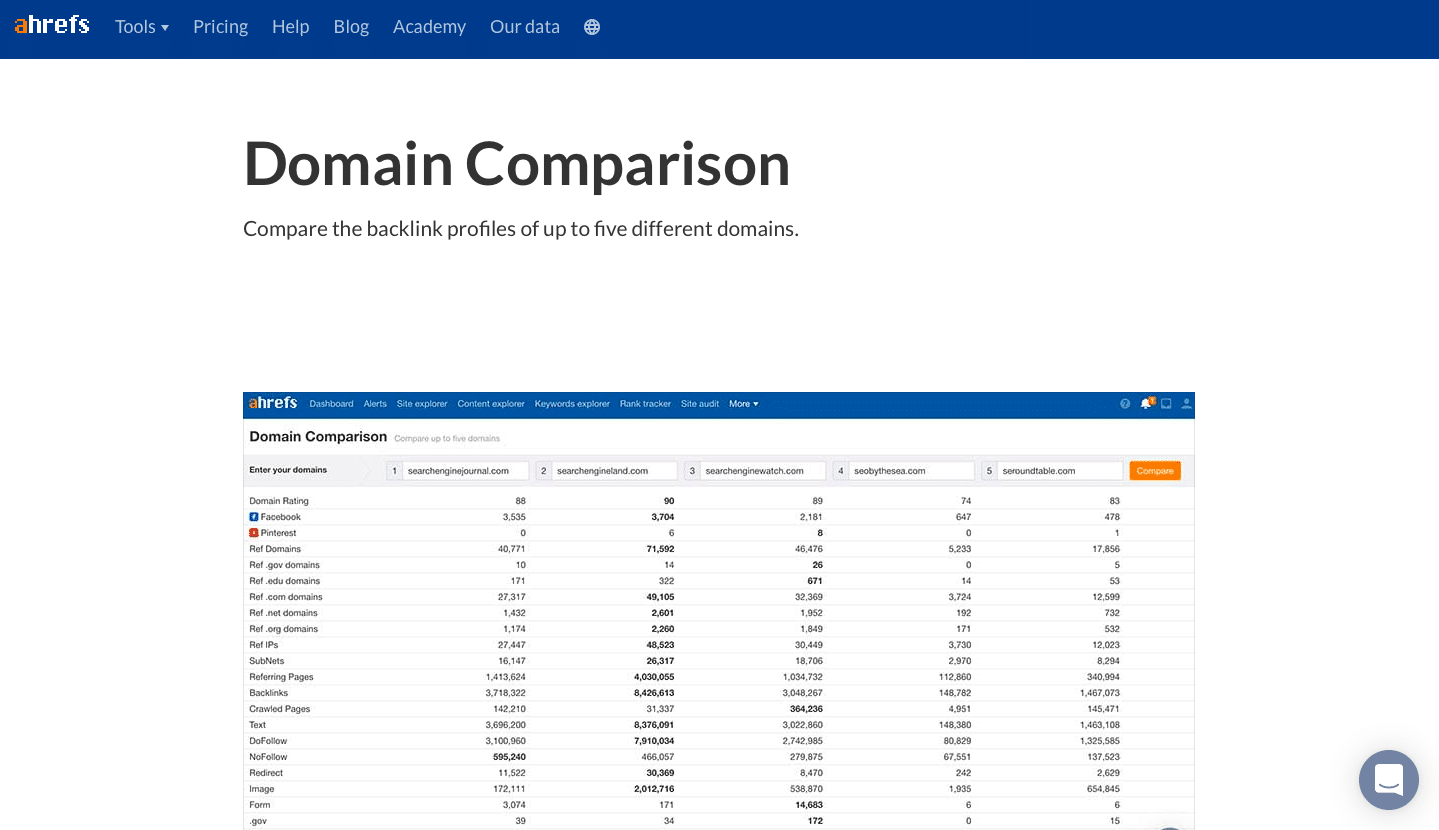 Ahrefs provides a domain comparison tool.
You can enter a maximum of five websites here (your own and four of your competitors'). Then, you can compare them at one go.
The platform's Competing Domains tool lets you know your closest competition, plus a keyword intersection chart.
You can navigate back to Content Explorer and Site Explorer and type your competitor's URL for more information.
You can have an overall view of your website's performance in comparison with others, plus have a look at domain ratings and backlinks.
The winner
SEMrush wins again! It gives you more tools for analyzing your competition. Ahrefs is close to SEMrush in this case, but you need to use a combo of tools on this platform to get a clear picture of your competition.
Start your SEMrush trial today!
Conclusion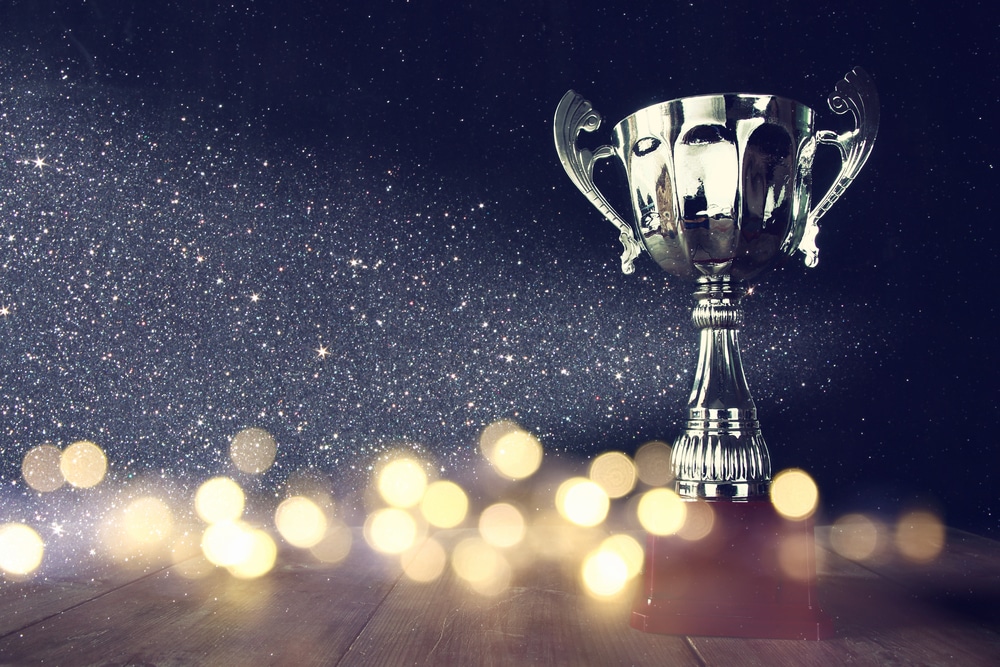 It, no doubt, is a tricky affair choosing between SEMrush and Ahrefs. Both are highly competitive and popular SEO tools. They possess their unique features and similarities.
It's like comparing an orange to an apple. Both are highly nutritious fruits and beneficial to health, but each has its own unique qualities.
The choice depends on your need and personal preferences.
The choice
If you like spice in life, choose SEMrush. It is dotted with features for SEO and marketing, gives you an ocean of keyword suggestions, and keeps a closer eye on the competition.
If you like to keep life as simple as possible, choose Ahrefs. Its cleaner interface and simpler keyword suggestions can win your heart.
But, hey, doesn't being too simple make you miss on the thrills of life?
The choice still is yours!