Okay, so it has been over a year now since Instagram first introduced Instagram Stories. Although many of us are avid users of the feature, a lot of businesses are failing to utilize this tool. But no fear, we have built this simple guide so businesses can fully understand the do's and don'ts of Instagram stories and how to make them work for you.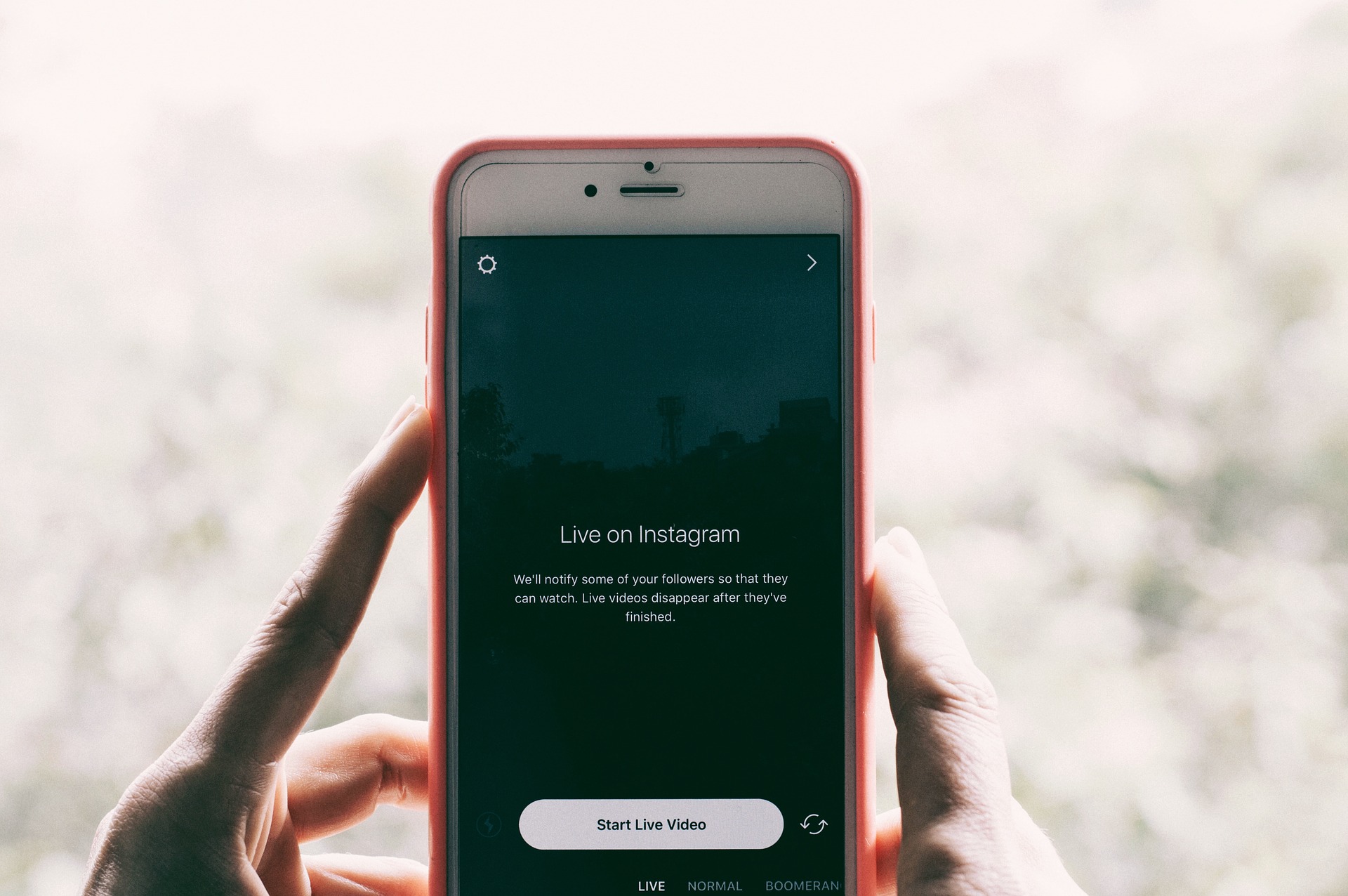 We'll go back to the basics. Imagine Instagram stories have only just been launched. You know nothing about them. So, let's find out what they are and what they do.
What are Instagram Stories?
Instagram Stories allow users to add images and videos to their profile to share moments of their day with their followers. The photos and videos will disappear after 24 hours and won't appear on your profile grid. That means you can be as creative as you please, without over-posting and cluttering up your followers' feeds. Great!
"Instagram Stories, a new feature that lets you share all the moments of your day, not just the ones you want to keep on your profile. As you share multiple photos and videos, they appear together in a slideshow format: your story." – Instagram
Where are they found?
Instagram stories are shown at the top of your instagram homepage feed. The picture in the circle is the profile picture of the person whose story it is. The coloured pink and orange border around the circle tells you that there is a post on their story you haven't yet viewed. (In the below example, the same goes for you! You have uploaded a new photo to your story, but haven't checked it out yet!)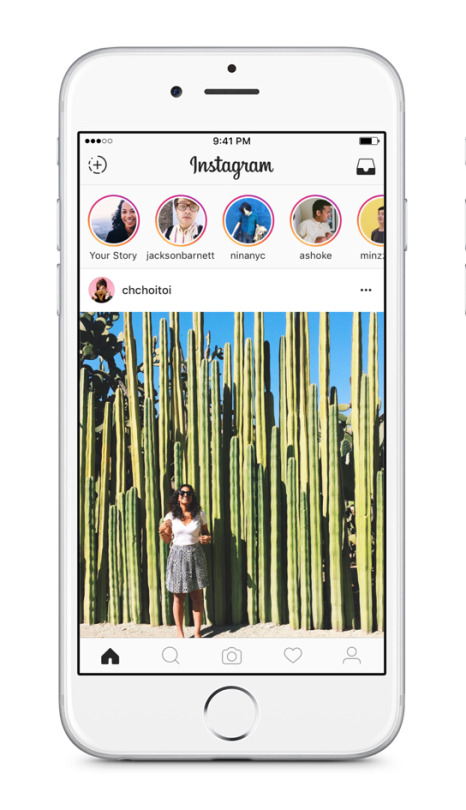 To view someone's story, just tap on their profile photo in the story bar. Viewing stories can be done at your own pace: tap to go back and forward or swipe to jump to another person's story. Unlike posts to your Instagram feed, stories aren't prone to getting lost in your follower's feeds. Instead they remain at the top of a user's Instagram homepage. The chances of followers seeing your post is, therefore, a lot greater.
How to Use Instagram Stories
The Basics
Before we dive into the business benefits of Instagram Stories, it is important to know how to use them. First things first, let's learn how to add a post to your story. Sounds simple, but unfortunately like most technology, it's more confusing than you think.
Adding a post to your Instagram Story: Lucky for you, there are two ways to add to your story: the first can be done by going to your profile page and clicking on your profile picture (icon). The second can be achieved by navigating to your main feed and clicking on the camera icon on the top left corner. Take your photo and then add text, drawings, and stickers to your masterpiece. Once you've created your post, tap the "+ your story" icon on the bottom right corner and BAM! it's officially added to your story.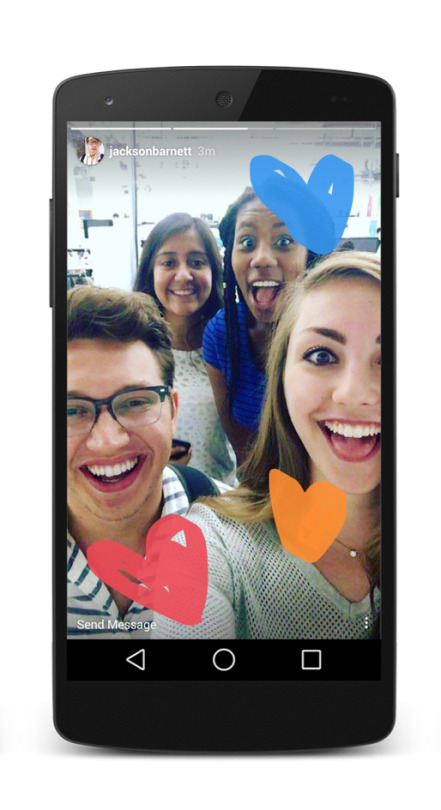 For some businesses, an ordinary photo just won't do your post justice. Sometimes, using a video or Boomerang or even going "live" will give your users a more exciting post. Think about it. If you are posting about a business event you are attending, taking a photo of the place would be fine, but "boomeranging" inside the event and giving video updates of insightful talks would be a lot more useful (and not as easy to quickly tap through!)
Choosing an image from your camera roll: So you have attended a great business event. You have lots of image and video coverage but it's sitting in your camera roll. Fear not! Instagram has a feature for that. You can upload the photos and videos taken in the last 24 hours to your story in two ways: Clicking the small thumbnail icon on the bottom left of the screen next to the flash icon will unveil your content. Alternatively, you can swipe your screen down to see all of your recent images to post.
Important! The dimensions for Instagram Stories are at 1080 x 1920 pixels. This means that, for many photos, you may need to get cropping your content before you post it. The video aspect ratio is 9:16 and the length can vary from anywhere between 1 second up to 15 seconds. Again, you may have to get savvy with your story cropping skills.
Remember: Unfortunately, you can't post anything that has been taken more than a day ago.
Editing Your Post
To post optimized content on your Instagram Story, businesses should be making the most of the text, pen, and sticker options available. This will help to explain what is going on in the image, the location it was taken and the people who are involved, etc.
Adding text: Adding text is done by clicking on the top right corner on the "Aa" icon. Then start typing. Having written your masterpiece, you can tap out of the text box where you can change the style and alignment. There are three styles to choose from: a slight faded colour behind the text, a solid text background colour, and no background, just the text in your colour of choice.
To change the colour of your text, highlight the word you want to change. By using the colour palette bar you can tap the shade you want. To have different words in different colours, you can write one word at a time and choose your colour. Having created the first word, tap out of the text box and go back to the "Aa" icon to add a separate text box. Type your text in and make this a different colour… Ta da!
Geotags: These are a form of 'sticker' that can be accessed by clicking on the square happy face icon on the top right corner of your screen. Here you will find a "location" sticker. Tap this to add your location to the image. This is great for letting customers know where you are or if you are attending an event. Your viewers can then click on the event to "see the location". This takes them to a page to view the map location of your whereabouts and other popular posts tagged in the same location.
Good to Know: With any sticker, you can increase and decrease their size by pinching or expanding it with two fingers.
Adding hashtags: There are two ways to add a hashtag to your post: by clicking on the stickers icon and tapping "hashtag" or typing your known hashtag in the text box (so through the "Aa" icon). Either approach will result in a tappable, searchable hashtag in your story.
Tagging people in a post: Click on the "Aa" icon and type the "@" symbol, followed by the Instagram user (handle) you want to tag. Instagram should generate a list of people who you are trying to tag as you are typing. Click on their image to tag them.
Remember: You must click on their image to make sure the tag works. Otherwise you can type the @name of someone, without actually tagging them. In order to tell if it has worked, their Instagram name will be underlined.
Tips for Verified Accounts
How to add links: If you have a verified account, the link feature is great for driving people to your longer form content such as a product page or offer page. You can do this by adding a photo or video to your story, and then tapping the paperclip icon on the top right corner of your screen. Add the URL and when you "add to your story," you'll see the call to action "see more".
Tip: Get creative with the pen and stickers to create arrows and other focal points, drawing the attention of your users to the "swipe up" section of the screen.
 @kimkardashian uses image tags and tags via text on her image to encourage users to other Instagram accounts related to the post. @huffpost layer text boxes, hashtags, and arrows drawn with the pen tool help focus user attention to "swipe up for more info!".
Many people describe Instagram Stories to be "like Snapchat" – an image messaging and multimedia mobile application. But, sadly for Snapchat, Instagram Stories are taking over. We are going to take a look through some of the reasons, why Instagram Stories are becoming so popular, particularly for business use.
Why Should Businesses Use Instagram Stories?
If you're a brand, the list of reasons why you should use Instagram Stories is endless. As a well-established social media channel, there are lots of benefits and features you must utilize to enhance your social media marketing tactics.
Reach More Customers than Other Apps
Most importantly, the amount of people you are likely to reach on Instagram is usually far greater than on similar devices such as Snapchat.
Why?
It's harder to find people on Snapchat (and hence their content).
You can't share links or tag people on Snapchat.
Instagram quite simply has a larger audience (700 million users over 300 million users).
Media content is of better quality on Instagram.
Fact: TechCrunch reports that the marketing platform TheAmplify is seeing 28% higher open rates on Instagram Stories compared to Snapchat.
Maintain a Presence in Your Followers' Feeds
With Instagram getting a new algorithmic model, your posts are now less likely to appear in your followers' feeds multiple times. Your posts only show to followers that Instagram deems will be most interested in them. That's where Instagram Stories come into play.
Unlike regular posts, your stories don't have to compete for a spot in your followers' feeds. They feature at the very top of a user's feed. You can stay at the top of the feed – and mind – of your followers.
Lots of Average Posts Encourages Engagement
Instagram Stories aren't known for showing the highest quality images and videos. As a matter of fact, they are more your "average" posts, published frequently and consistently to show users a "day in the life" of your business. Not everyone can capture wow-factor content on the go, and that's fine. As long as the media is clear, posting regular business updates encourages followers to engage with you by checking your profile for the latest posts and useful information. So, make sure you give it to them!
Diversify Your Strategy
Maintaining the attention of anyone can be a difficult daily task. Diversifying your content helps to keep the attention of your target audience and cater to their many preferences. For many businesses, this can be in the form of adding a new channel or social media platform to your strategy. That sounds a little time consuming to us.
If you are already on Instagram, using Instagram Stories is a perfect way of mixing up your marketing content with the resources you already have. Take away the need of creating a new social profile and try to rebuild your audience by utilizing Instagram Stories, which is a new feature of an already existing platform.
Use Real-Time Marketing
Not only do customers have a need for more personalized content, they are also demanding it now! You can cater to this need by posting live during an event or sale to encourage more people to attend. For those who can't attend, your posts bring them closer to your business, giving them the opportunity to experience the antics through social updates.
Save and Repurpose Content
As you now know, Instagram Stories have a lifespan of 24 hours. Some will see it as a downfall, but that's where being social savvy comes in. Your post content can be saved manually (or you can set Instagram to save all Story content to your camera roll automatically) to reuse it at a later date! Perhaps you ran an Instagram poll? This data can be turned into a really cool, informative Instagram post to thank those who got involved and voted. Great!

Closing Thoughts
As you can see, using Instagram Stories is pretty straight-forward and there are dozens of benefits to them. It gives freedom and flexibility to your Instagram marketing, despite the ongoing changes in the platform and to-use behaviour.
"Instagram has always been a place to share the moments you want to remember. Now you can share your highlights and everything in between, too." – Instagram
With so many reasons to use it, why not try an Instagram Story today?