Trusted lifestyle publications have learned to walk a fine line between addressing a specific niche and having widespread appeal. The best of them answer felt needs for many…but without becoming too narrow. After all, they are striving to provide valuable insights and information and attract advertising revenue.
Some of the publications on this list are well-known. However, others you may not have heard of previously. They represent a mixture of blogs and magazines, many of them blurring the distinction in the process. Check out the ones that spark your interest. Poke around for a bit. We've listed our top picks in alphabetical order. Enjoy!
Camille Styles
As a college student, Camille Styles thought she was going to use her journalism degree to become a magazine editor. However, along the way, she worked for a catering company. Styles found, to her surprise, that she absolutely loved event planning. In her own words, she found it difficult to believe that she was getting paid to merge her passions for cooking, design, and bringing people together.
On her lifestyle site, Styles currently oversees what is arguably one of the most eye-pleasing, helpful, and fun lifestyle publications. As a result, if you share her passion for food, gathering, design, beauty, wellness, and more, check out CS. It's filled with engaging content, thoughtfully articulated, and beautiful to behold at the same time.
Conscious Lifestyle
With a core value of believing that we must be the change we wish to see, Conscious Lifestyle seeks to help people overcome challenges common to much of the human race. It's a pretty tall order, but the editors take an open posture toward issues of mind, body, and spirit.
The focus of this lifestyle publication is to provide practical tips, tools, and techniques. Consequently, these help others move in the direction of happiness, health, and healing. The site intentionally provides a platform for the world's leading thinkers, philosophers, and leaders. It zeroes in on material that anyone can access.
Entertainment Weekly
Who doesn't enjoy unwinding with some quality entertainment, especially during times of cultural upheaval, heightened stress, and economic uncertainty? The editors behind Entertainment Weekly totally get it. As a result, they strive to make sure we make informed, insightful decisions about the various forms of media on which we spend our time and money.
Wondering if it's worth it to catch Marvel's latest release in the theater? Not sure if the series your best friend won't stop jabbering about is really as good as he says it is? EW can help you sift through all of the attendant hype that surrounds anything in its initial days of release. This is true whether it's a movie, TV series, book, or theatrical tour. However, be warned up front. You might lose track of time once you start digging into the print magazine or website.
The Financial Diet
Far too many people put off learning about the ins and outs of money management and investments for good reason. On the other hand, many financial publications take as their operating assumption that their readers are already financially savvy. Not so with The Financial Diet. The editors at this lifestyle publication work hard to demystify issues of finance for the average reader looking to learn more.
Whether your intent is to become financially wise or simply to solve an immediate problem related to money, give the Financial Diet website a spin. You'll likely find articles about nailing that important job interview, how to create a simple budget, and even whether or not organic food is worth the hefty price tag. In short, end any embarrassment you might have about money issues today by checking out TFD.
Food Network
The folks at Food Network recognize that we all need to eat but are committed to helping us do it well. The namesake magazine shows up in the mail to an astonishing 100 million U.S. households and currently holds the No. 2 position in terms of best-selling magazines on the newsstand racks. Clearly, the editors of this lifestyle publication are doing something right.
Food Network isn't merely a collection of recipes, as the uninitiated might expect. Instead, it seeks to empower readers to move into a higher realm of food preparation and consumption as it seeks to fulfill its goal of being "food's best friend." Consequently, content is educational, helpful, diverse, and (let's just say it) jaw-dropping in its visual appeal. If you've been wanting to take your food habits to the next level, this is the site for you.
Good Housekeeping
The very first print issue of Good Housekeeping was published in 1885. With well over a hundred years of experience under its belt, the folks at this magazine obviously know what they are doing. The magazine has never swerved from its original calling to provide helpful information out of a sense of public duty matched by private interest.
This high calling serves its readers well. Others describe the editorial team at GH as ruthless in its fact-checking and commitment to accuracy. In this way, they help their readers make informed, reliable decisions with just about everything that touches their lives. If you are looking for dependable, authoritative information regarding food, beauty, holidays, and more, this lifestyle publication should be one of the first you consult.
He Spoke Style
If you're a guy looking to give your outward impression a serious upgrade, consider making He Spoke Style your first destination. Unlike many men's style lifestyle publications, the writers and editors at HSS shoot straight. They do so without a lot of fuss or even a hint of pretentiousness. The publication has been featured in the New York Times, Wall Street Journal, Esquire, and plenty of additional top-tier media.
The emphasis at HSS is on practicality and attracting "regular guys" as readers. Guys who maybe don't have thousands of spare dollars lying around. Since its launch over a decade ago, HSS has grown to include its own line of menswear. Likewise, the experts at HSS even offer complimentary consultations and personal styling tips via Zoom. If you find it slightly intimidating to walk into a menswear store, give the folks at HSS a shot.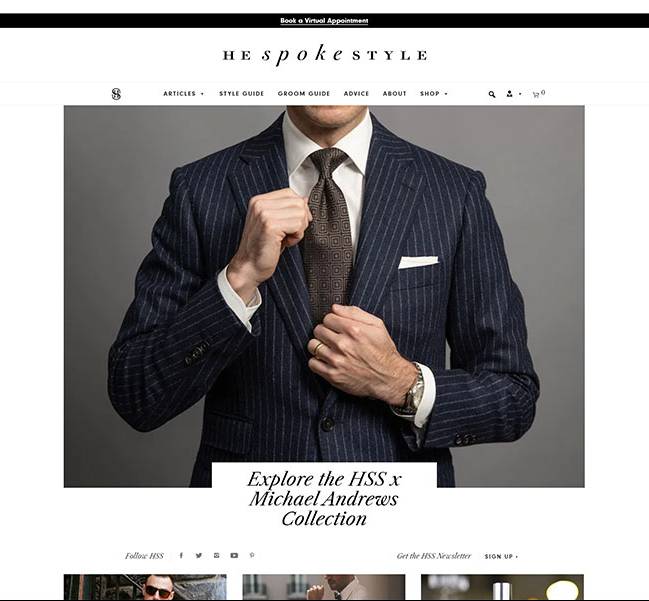 Martha Stewart Living
While the emphasis tilts toward the upscale, everyone can find something of interest. Filled with helpful, practical tips and advice, the team at Martha Stewart Living offers up great recipes, DIY projects, beauty tips, gardening expertise, and much more.
Stewart has been an authoritative voice in lifestyle publications since 1982. That was the year her book Entertaining with Martha Stewart first hit the shelves. Since that time, MSL has grown to become a huge international presence. Her enduring commitment to making life easier, inspirational, and a little more beautiful has never wavered. For some of the best advice on health, pets, weddings, food, home design, and more, make MSL a regular destination.
Men's Health
Print editions of Men's Health are currently available in 25 editions in 35 countries. Add to that more than 21 million readers in print and online, and MH represents a formidable presence in the world of fitness, nutrition, and weight loss. The publication also offers advice on menswear, scientific breakthroughs, gear, movies, and more, all targeted at guys.
The commitment to service journalism runs deep at MH. Rigorous fact-checking, licensed experts, and experienced staff make it a worthwhile read. MH has been awarded many of the top publishing industry honors. These include the Ad Age distinction of being named one of its Magazines of the Year in 2017. The coverage typical of MH is informative while avoiding the trap of being overly promotional.
NewsReports
If you're interested in availing yourself of several life hacks and tips that cover just about any topic making headlines, make NewsReports your next lifestyle publication to visit. The folks behind NR value substance over hype and do their best to steer readers to the latest great apps, technology innovations, health news, and more. NR is an online-only publication committed to helping you become more productive and well-informed.
The NR effort began as a humble website dedicated almost exclusively to helping its readers wade through the mind-numbing array of options available on the Apple Store or Google Play. It never let go of that niche expertise. The writers and editors expanded and now scour the headlines for noteworthy innovations, so you don't have to. If you're looking to move past headlines and hype, give NR a look.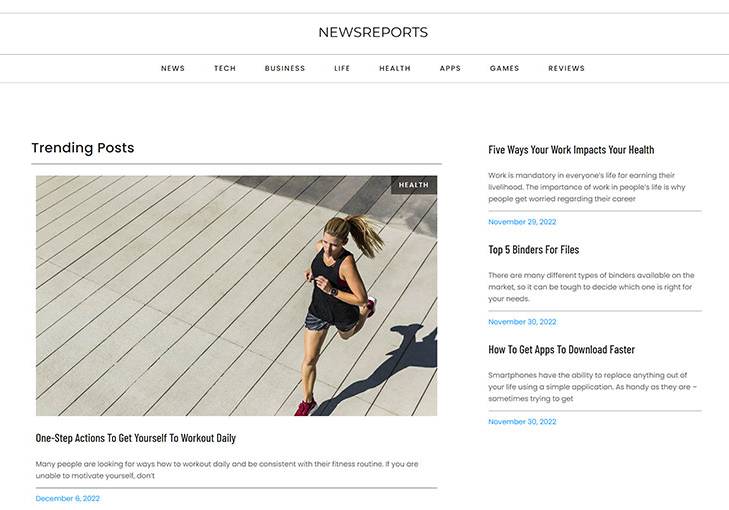 The Pioneer Woman
It might help to think of Ree Drummond's monolithic lifestyle publication as "Martha Stewart for the blue jeans crowd." In addition to the usual sections on food, decorating, health, beauty, and style, Drummond peppers The Pioneer Woman with information and snapshots from her personal life. The overall effect is one of exchanging recipes with your next-door neighbor over a glass of minty iced tea.
Drummond launched her website over 15 years ago. She had zero intention of launching a media behemoth, yet her publication transcends lifestyle genres in a way readers clearly enjoy. TPW answers a market segment that wants the information, yes, but also wants to know a little bit about the people providing it. Here you'll find articles with non-traditional titles such as "Todd Played His Last High School Football Game" and "Photos of Chuck."
Southern Living
The reach of Southern Living extends far beyond its initial target audience of the southern U.S. without losing its focus on the culture and traditions of the American South. Launched in February of 1966 by The Progressive Farmer Company, SL has stayed true to its vision. It celebrates what's glorious about the South "in all its complexity" and adds diverse and dynamic voices to the conversation.
Rigorous fact-checking and an unwavering commitment to accuracy make SL a lifestyle publication that is both dependable and entertaining. If you are looking for interviews with experts, creative food ideas, home and garden tips, and a whole lot more, look for SL to serve it all up. The editors present it all with a southern flair that is sure to appeal to just about anyone from any walk of life.
Verve
Headquartered in South Bombay, Verve was launched by Anuradha Mahindra in 1995 to offer a platform for the voices of recognized talent to express themselves. The namesake website followed in April 2014. The claim to fame here is being India's very first women's luxury lifestyle monthly. Verve offers its readership a glossy print version and has as its primary emphasis content of consistently high quality.
Verve tailors its content to a very specific niche. Over time, the publication has grown as its articles on arts and culture, people, fashion, travel, events, and more appeal to a considerably larger audience. Do you have an interest in getting a global perspective and approach to service journalism? Verve is a lifestyle publication well worth your attention.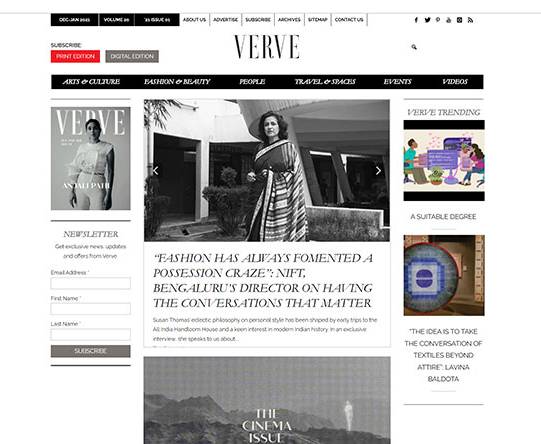 Wit and Delight
True to its moniker, Wit and Delight advertises itself as "a home to professional feelings feelers, an elevator for glass ceiling breakers, and a soapbox for stories on anything from home decor and tile to battling anxiety and depression." And that pithy description pretty much sums up what you will find within. Never taking itself too terribly seriously, W&D tells important stories with a flair missing from many other website destinations.
The emphasis here is on stories that were developed as a result of real-world experiments out in the world of "adulting." If you're immediately drawn in by a no-nonsense approach to topics of importance, giving yourself 30 minutes with W&D is a dangerous undertaking. You'll pop in for a quick look and maybe miss picking up the kids from school. This lifestyle publication is long on useful information and enjoyable reading.