Today's marketers know that search engine optimization is table stakes for a successful integrated marketing strategy. Here are some examples of how to strengthen your plan with SEO strategy .
Examples of search engine optimization
SEO is a wide field that involves technical optimizations on the back end and improvements to the reader's experience on the front end. There are four types of SEO : on-page, off-page, technical, and local.
What are examples of SEO marketing?
Here are some examples of how to incorporate the four types of SEO into your marketing.
Example of on-page SEO
You probably know that SEO marketing involves keywords. The most common example of on-page SEO is optimizing a piece of content to a specific keyword. For example, if you're publishing a blog post about making your own ice cream, your keyword might be "homemade ice cream." You'd include that keyword in your post's title, slug, meta description, headers, and body.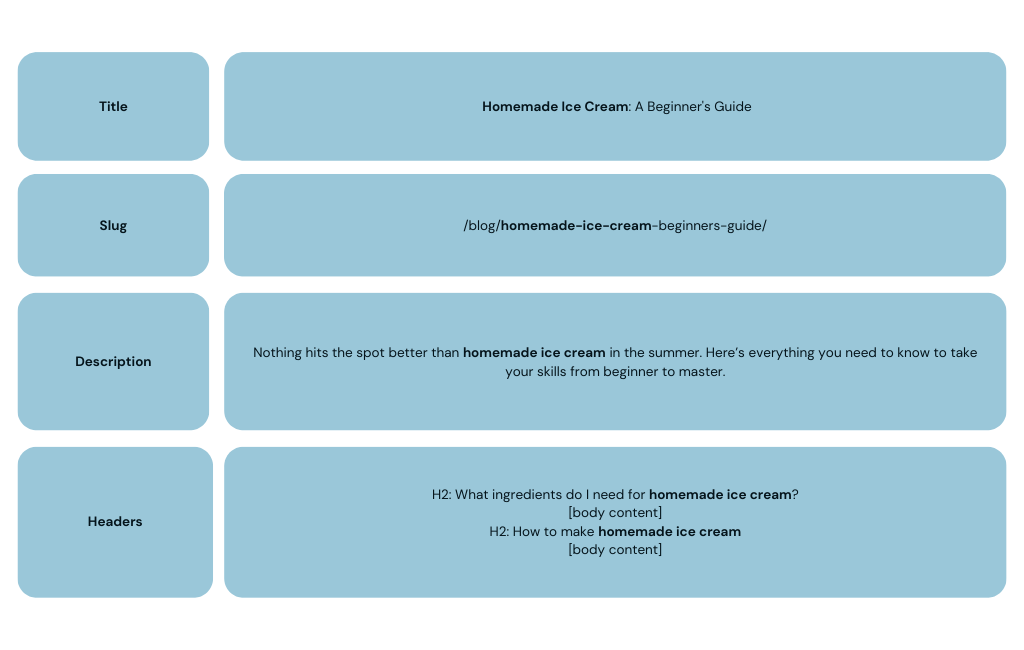 Examples of SEO keywords
In this example, your keyword is "homemade ice cream." This is an informational keyword. If a user searches for it, they're probably looking for information on how to make homemade ice cream. Once they find the info they need, their search will be complete.
Keywords are all about intent. Here are some other types of keywords:
Informational keywords : A user is looking for information or to answer a question. Example: "homemade ice cream"
Navigational keywords : A user intends to find a specific site or page. Example: "allrecipes ice cream"
Commercial keywords : A searcher is investigating a brand or service. Example: "ben and jerry's chunky monkey"
Transactional keywords : A searcher intends to complete an action. Example: "rocky road ice cream delivery"
Understanding a users search intent will help you tailor your content to their goals and amplify your SEO performance.
Example of off page SEO
Your off page SEO strategy involves link building – links from external sites to the web page with your content. Also known as backlinks, this seo tool can help you gain visibility from social media or other websites. Once you've published your article on how to make homemade ice cream, you can maximize backlinks by:
Sharing the article on your own social pages. Write the post in a way that engages and sparks conversation.
Example: Melting in today's sweltering summer heat? Cool off with some homemade ice cream. What's your favorite flavor? Comment to let us know and be sure to share this recipe with the ice cream lover in your life!
Identifying external sites with your target audience interested in your content. Reach out to the publisher and suggest they link to your content. Be sure to clarify how it benefits their audience!
Example: Hi there [name], I found your article "26 family-friendly activities to try at home this summer" and I'm loving all these ideas! We just published a beginner's guide to making homemade ice cream. I think it would be a great addition to your list under #17 – involve your kids in the kitchen. We'd love to share this resource with your readers. What do you think?
Example of technical SEO
The goal of technical SEO is to help search engines index your site more effectively. One example of technical SEO is submitting a sitemap. A sitemap helps Google index your site by telling it where the most important content is. Even if you're not a developer, you can create an XML sitemap file and submit it using Google Search Console.
Example of local SEO
One of the most ubiquitous examples of local SEO is claiming and optimizing your Google Business Profile. If a user searches "where to get ice cream," several Google Business results show up. Your Google Business Profile is a complement to your website and social media. Claim your profile to ensure your business appears on the SERP for users looking for your products or services in your area.
SEO marketing strategy
Some of your goals in digital marketing strategy are to increase website traffic and increase conversions to bring in more revenue for your business. SEO can help you achieve all these.
How is SEO used in digital marketing?
Creating high quality content that's optimized for search can grow your organic traffic over time. And best of all? It's not just random traffic. You can control who your SEO content brings to your website.
How? By getting clear on the intent behind your keywords. Before you start creating your content, you should know its keyword and the searcher's intent. This will help you target exactly the kind of user you want to bring to your site – one who's more likely to take the action that will help you reach your goals.
What is bad SEO?
All SEO tactics are not created equal. The foundation of "good SEO" is user experience. Publishing quality content and making your website easy to use are examples of good SEO.
On the other side of the coin, some techniques are considered bad SEO or " black hat SEO ." Generally, if your intention is anything other than being helpful, your tactic is probably sketchy. This includes activities like keyword stuffing, sneaky redirects, buying links, and pages with malicious behavior.
Do bad SEO tactics work? You might see some SEO success, but it's not sustainable. And tinkering with them can damage your brand's reputation with both users and search engines. Google's algorithm gets more sophisticated with every update, and these activities are all on the naughty list. If you need additional help, consider working with an SEO agency. They can provide expertise to help ensure you avoid using these bad SEO techniques.
SEO example website
What does a well-optimized website look like in practice? Most mid-sized companies have put significant effort into SEO. But some of the best examples out there are B2C companies offering high-ticket products and services. The value of getting a user to their website is astronomical.
One of our favorite examples? Personal injury lawyers. For a masterclass in SEO, Google "got hurt at a theme park" and check out any of the top results.
Find examples of SEO marketing in your industry
To spark ideas for your own business, simply search the relevant keyword you're targeting with your own SEO strategy. Now that you know what to look for, your cup will runneth over with optimizations to make on your own website.