7 Ways BuzzSumo Can Help With Content Research
If you write content, track competitors, monitor brand mentions or target media, then BuzzSumo is a great tool that will help you simplify those tasks. One of the most popular tools in today's digital marketing toolbox, it's an online service that offers insight and analysis of the most popular online content and the influencers who share it.
There are a lot of different ways to use the service. Following is a list of features that are most helpful for content marketers. (Keep in mind that some features will vary based on subscription level.)
1. Generate Content Ideas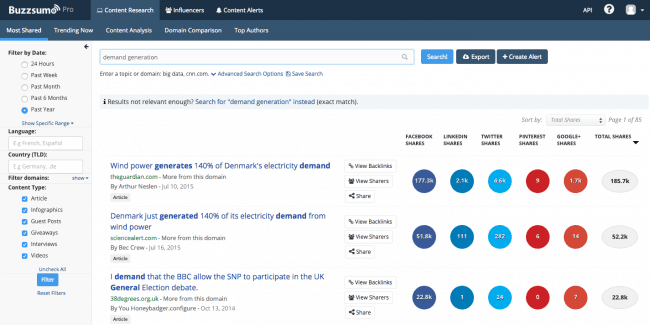 Coming up with ideas for a blog post or headline can be time consuming. Searching for content by topic on BuzzSumo's Top Content tab will show you what readers like, which can serve as inspiration for you to create similar content. Additionally, you can filter the results by date, language, country and content type.
In the example above, searching for the term "demand generation" provides pages of examples sorted by most social shares. This data gives you insight into how to create sharable content for that topic. Best of all, BuzzSumo will give you with a handful of results for free.
2. Conduct Content Research by Domain
Another valuable feature under the Top Content tab is the ability to search by domain. This helps you discover what type of content performs best depending on different sites, which is especially helpful when writing guest articles. For example, if you search Relevance.com, you will find that one of the most shared articles is "Why Internal Storytelling Is Key to Content Strategy."
3. Find & Connect With Influencers
The platform's Influencers tab lets you search for experts with reach by topic or keyword. You can search for:
Bloggers
Influencers
Journalists
Companies
Regular people
Or all of the above
The results list will display valuable information such as number of followers, average reply and average retweet ratio. This data will help you identify those worth targeting in influencer marketing campaigns.
4. Monitor Trends & Industry News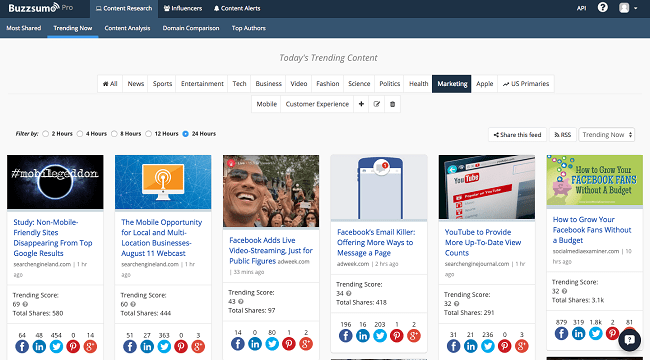 BuzzSumo's Trending tab lets you easily track what's happening across the web. Beginning with some popular default categories, you can view the most popular content within the past two, four, eight or 24 hours.
The Trending tab also lets BuzzSumo Pro users monitor up to 10 custom topics, which makes it easy to view what's happening in your industry. This feature can help identify real-time opportunities and save time when searching for articles to share on social media.
5. Monitor Brand Mentions & Backlinks
Many marketing and PR tools help you to monitor media mentions, but they can often miss relevant web mentions. BuzzSumo does a great job of picking up what other platforms miss. Users can set up separate alerts and have them emailed to team members based on:
Keyword/brand name.
Links to a domain, subdomain or exact URL.
Content published by a particular author.
Content published on a particular domain that reaches a minimum number of total shares set by the account admin.
6. Benchmark Performance
BuzzSumo's Content Analysis tab makes it incredibly simple to gain performance insight. This section includes a pre-built report that lets you analyze content performance by domain, topic or keyword and provides data that includes:
Average shares by network and content type
Shares by day of the week
Average shares by content length
Popular topics
Top posts
Armed with this information, content writers can focus on doing more of what works.
7. Analyze Competitors
The Domain Comparison feature provides the same data as the Content Analysis tab, but it lets you display the performance of two websites in a head-to-head showdown. Use this feature to easily find out where you're outpacing competitors and where you're falling short.
As content marketers, we're always looking for new ways to work smarter. Tools like BuzzSumo help us do that quickly, so we can get back to doing what we love—creating content.