I am sitting at my desk, editing an article, and a young lad comes and asks me, "Hi, would you know where I can find Adam?"
Well, I know four Adams. The first is an old friend who I went to school with; he lives in Virginia now. The second is a guy who works in the restaurant I frequently visit; the restaurant is three blocks away. The third is a guy who I see at the gym; I don't know where he lives.
Still, I don't think about any of them; I just point my finger towards a cabin across the hall where sits Adam, the IT guy in my office. That is how anyone would have answered that question. We, humans, understand a question in its context and answer accordingly. This is known as cognition.
With artificial intelligence (AI) gaining a lot of momentum, search engines, operating systems, devices, and even games are actively using it to personalize experiences. To test whether search engines are cognitive enough to understand the context of search along with the user's intent, I undertook a little experiment with Google, and here is what I found.
The Cognitive Quest Begins
To begin with, I cleared my browser's cache, cookies, and browsing history, and then searched for 'John Watson' on Google. This is what it showed me on the first page. It is all about the American psychologist John B. Watson, the founder of the psychological school of behaviorism – his theories, his contribution to psychology, his books etc. Fair enough!
I then spent the next half an hour or so searching for terms like 'Dr. Watson,' 'Sherlock Holmes,' 'Arthur Conan Doyle,' 'Baker Street London,' 'The art of deduction'… well, you understand where I am headed.
I even went ahead and clicked on some links that appeared, spent a minute or more on each page that loaded to create enough search history for Google to analyze and figure out which Watson I was actually searching for. For the curious Sherlock-ed readers, below are a couple of pages I visited:
Once I was convinced that Google's must have figured out my search intent, I again typed the word 'John Watson' in the search box and hit enter. This is what I saw on the first page – quite close to what I actually wanted to see.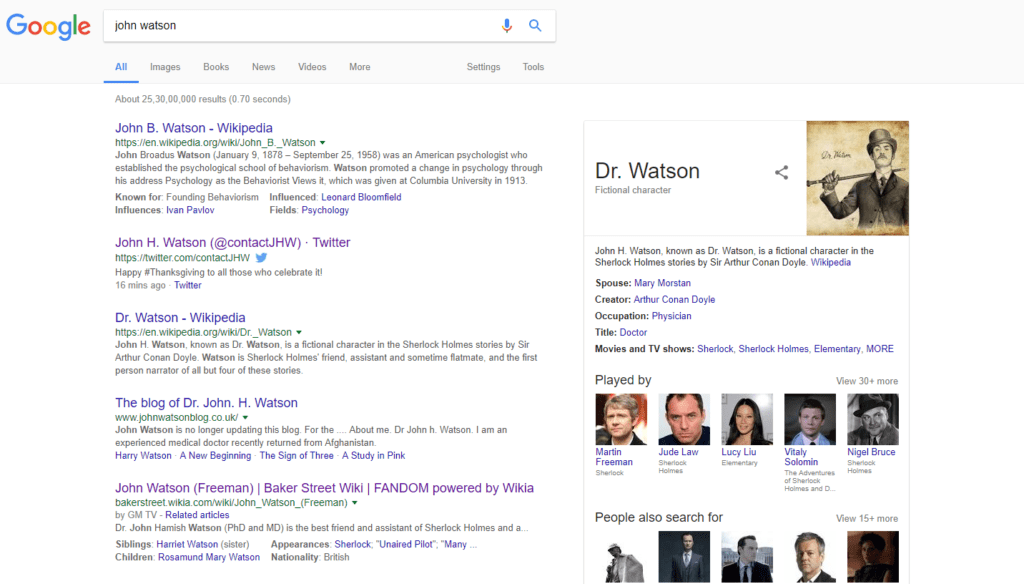 … And Voilà!
The first search result was still about John Watson, the psychologist, but the rest of them were about Dr. John H. Watson, my favorite character from Arthur Conan Doyle's Sherlock Holmes – his twitter account, his blog, the actors who played the character along with some other characters from Sherlock Holmes.
Clearly, Google understood my intent and personalized search results according to their relevance. That is like Google telling me 'I know more than a thousand John Watsons, but here is the John Watson you are looking for.'
Amazing, isn't it? A smart search engine has the capability to self-learn and identify the user's search intent based on their search behavior. It then delivers personalized results according to intent as well as search context.
A Closer Look at Cognitive Engine
When someone submits a search query, they implicitly tell the search engine what they are searching for. Standard search engines can only scan the keywords provided by the user, then search for those keywords in the content repository, and finally retrieve results containing those keywords. Some of them may be relevant for the user, while others may not.
However, AI-powered search analyzes the user's search history and search behavior – the pages they visit, the content they read, the videos they watch, the files they check – to establish the context of the search query or intent of the searcher. It then delivers search results, which are contextually relevant to the user.
With firms using multiple sites and platforms to address the information needs of customers and prospects, it becomes increasingly difficult and tedious to manually add and organize content. And when it comes to maintaining pace with changes in content on communities, it is next to impossible.
This is where AI and machine learning steps in. With their combined might, they help transition from complex, manual search to self-tuning and always-learning cognitive search. Furthermore, this ensures your content is delivered to the right people.
Time to Start Your Cognitive Engine
There is not a shred of doubt that cognitive search is the next evolutionary step in the field of enterprise software. Some enterprise search solutions have started offering a new way to seamlessly integrate and access data from most leading enterprise platforms including Salesforce, JIVE, Lithium, MadCap Flare, Zendesk, JIRA, Confluence, Zendesk, Help Scout, etc.
A capable solution can also extrapolate search reports to get deep insights which further contribute towards customer success and organizational growth. So it will not be wrong say that now would be the right time to jump on the cognitive bandwagon and reap all the benefits it offers!