Here's how you can develop a social media lead gen strategy
You've worked hard on your social media lead generation strategy and your social media outreach program. But after several months, you still aren't seeing the type of results that you expected. Social media isn't always easy to get the hang of from the start, even for those who are seasoned in other types of marketing. Social media can play a major role in your lead generation, but you need a concrete strategy and the right tools for success.
According to research from Simply Measured, measuring ROI, tying social to business goals, and using social data to inform strategy remain the biggest social media challenges.
These challenges often leave businesses feeling like their social media strategy isn't producing results. Let's talk about why your social strategy isn't delivering what you expected, and how you can make changes to get the results you want.
1. Your Strategy Doesn't Include Specific, Measurable, Actionable Goals
Too often, businesses start using social media without having any specific and measurable goals in mind.
Traditionally, marketers have thought of social media as a top of funnel channel that's used for driving brand awareness and website traffic.  In fact, social can help engage people and ultimately drive revenue.
First, you'll want to figure out which stages of the funnel you want to impact with social media. Here's a good illustration to help you think about the different roles social media can play throughout the funnel.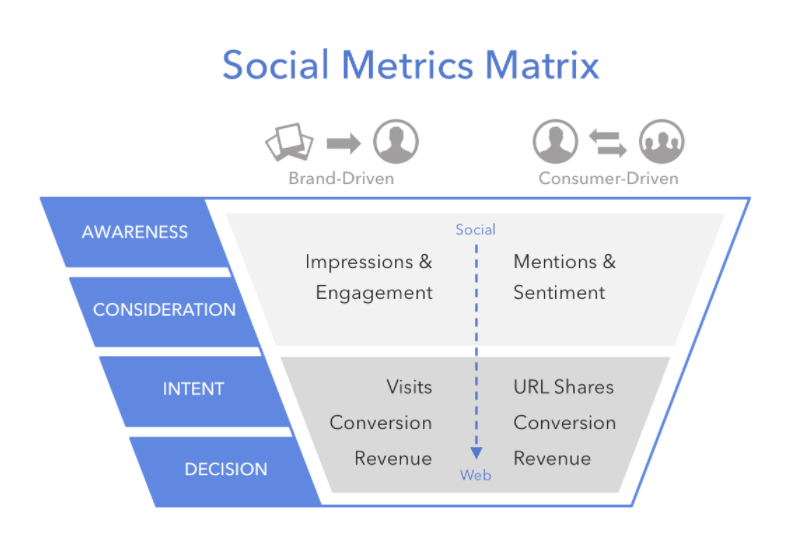 [Source: SimplyMeasured]
Then, make sure that the tactics you select make sense for your particular goals. To get organized, you'll want to map your social media marketing tactics to the funnel stages and determine the best metric or two metrics for each tactic. Buffer has a really good example of how to do this.
[Source: Buffer ]
2. You Aren't Attracting the Right People to Your Posts
As marketing professionals, we need our message to be seen by our target market and make sure it resonates with them.  So how can you ensure that you are reaching a relevant audience?
It starts with social listening. You can use tools like Socedo to identify the people on social media who are talking about your brand, products, competitors, and using keywords related to your business.
Lenovo North America's Marketing team has taken up this approach. Michael, a senior digital marketing manager from Lenovo, worked with Socedo to come up with a list of keywords related to their business he would use to identify his target audience on Twitter.
The keyword list includes his company's Twitter handles, competitors, key topics, and industry analysts / influencers for each of their strategic verticals. Socedo then listens for these keywords and social actions as they process new Tweets, surfacing people who fit Lenovo's target criteria – including net new and existing leads. Using Socedo, Michael is able to map the Twitter community back to his marketing database and figure out what business topics and entities his audience cares about on a person by person level.
With a report like this one below, Michael can see which topics his audience cares about, which influencers they deem "most influential", which events they're attending, and which competitors Lenovo should pay attention to.
This data gives his team the ability to create more relevant social media posts, and send more timely email messages to his customers.
3. You Aren't Engaging with People One-On-One
Are you proactively starting conversations with your target prospects?
Engaging one on one with a prospect can be as simple as sending a message. You can slice through the noise by sending a prospect a personalized DM at the stages of a buyer journey. In your DM, you could let them know that you're messaging because they've shown an interest in a topic, and send them a link to a piece of content, such as a blog post or infographic on that topic. Sending a DM like this can be an effective way of building trust with new prospects, and helps move them down the marketing funnel.
4. You Aren't Using the Right Tools to Help You Grow Your Social Media Presence at Scale
One issue with one-on-one engagement is that it can take a lot of time. Fortunately, there are many tools you can use to automate the routine tasks associated with growing your social media presence.
For example, instead of posting tweets manually, you can use social publishing tools like Buffer, Hootsuite, Oktopost, SproutSocial, or Oktopost to automate posting.
If you want to find new leads on social media, engage them automatically and get new contacts into your database, you can use tools like Socedo or Dux-Soup. Socedo lets you reach out to people who fit your criteria on a continuous basis by following users on Twitter and then sending customized direct messages to those who follow you back. You can sync new contacts with any social engagement status (i.e. people who followed you) into your marketing database or CRM. Dux-Soup helps you automatically visit target prospects' LinkedIn profiles and syncs people's contact info into your CRM system.
If you want to quickly identify trends in your space and jump into specific conversations, you can use tools like Meltwater or Brand24. Finally, you can encourage your colleagues across the company to help you amplify your social media presence. You can use tools like DrumUp and Everyone Social can help you curate content for your employees so that they can easily share it via social media.
5. You Aren't Using Behavioral Insights from Social Media to Optimize Your Conversion Funnel
If you want to use social media to optimize your conversion funnel, you'll have to get social media data into your marketing automation or CRM system. Last year, my marketing team decided to do this.
Once we connected our social media management platform with our marketing automation platform, we can now see which social network or social profile a click or a conversion came from, and which topical keywords, brands, or influencers an individual engaged with on social media before becoming a lead in our database.
With this additional data, we could now segment leads and score them in new ways. One of the most impactful things we've done is use social data to segment leads into specific email nurture tracks. As soon as a lead talks about a relevant topic on social media, we are able to send them an email that references their social media action and asks them to connect with us.
Here is a real email we've sent to leads who are talking about "content marketing" on Twitter.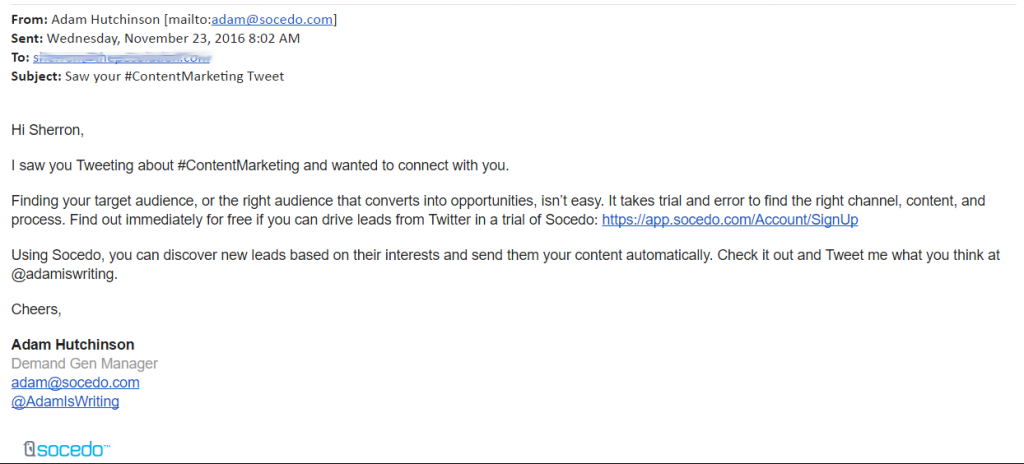 Implementing these real-time emails triggered by leads' social media activities has helped us drastically improve the performance of our emails.
In addition, my marketing team decided to score certain social media actions as part of our lead scoring model. This allows us to identify hot leads in our database in a timely manner and pass more Marketing Qualified Leads to our sales team.
Turning Your Social Media Strategy into a Success
The biggest key to driving results through social media is to have a documented plan with goals, tactics, KPIs in place. What are your specific goals, what tactics are best suited for meeting those goals, and what metrics will you use to evaluate your performance?
Make sure that you are engaging with your target audience proactively and giving your prospects one on one attention. When you have the basics down, you can then utilize tools to help you identify relevant prospects at scale and add these critical behavioral insights from social media into your marketing automation system. Learning how social media touches your target audience throughout the buyer journey can help your entire marketing operation become more effective.