The 2018 Native Advertising Technology Landscape is Still Growing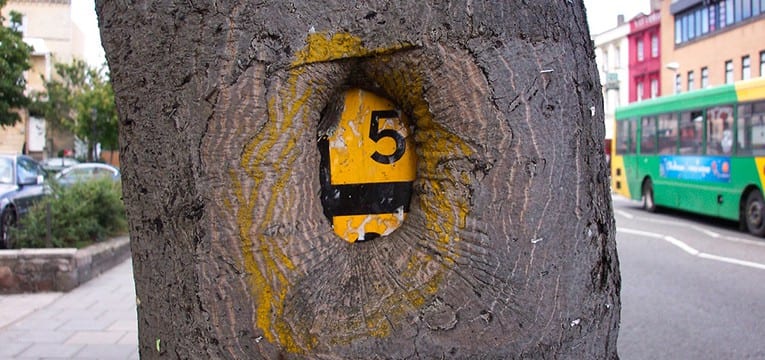 4
min read
I spent the last several months conducting copious amounts of research in the areas of native ad tech and artificial intelligence which culminated into the publication of two free ebooks. The first, "Everything You Need to Know About Marketing Analytics and Artificial Intelligence," was shared via email with the Relevance audience. The second rolls out what I uncovered cataloging the 2018 native advertising technology landscape – "The Global Guide to Native Advertising Technology 2018."
From 2017 to 2018 there was nearly 50% growth in the number of native ad tech vendors. It went from 272 to 402. Definitions and the methodology of the categories and the project at large can be found here.
The 2018 Native Advertising Technology Landscape
Click on the landscape to view full screen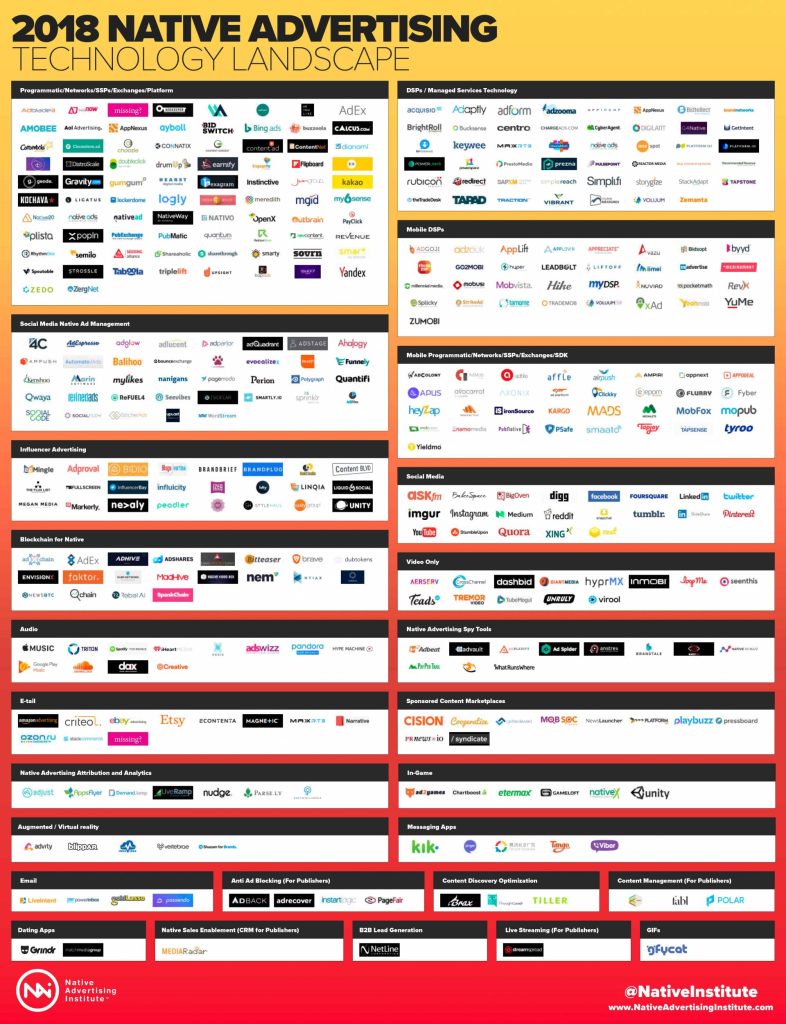 Download high-resolution versions
2018 Native Advertising Technology Landscape (1200 dpi JPEG)
2018 Native Advertising Technology Landscape (PDF)
Since we're already in Q2, I thought I'd take a look at the growth of the native ad tech landscape in just Q1 of this year. In the last three months, the landscape has grown by 48 vendors for a total of 450. That's nearly a 12% increase since the beginning of 2018.
At that rate of growth, the 2019 vendor landscape will have annual growth of 48%, the exact growth from 2017 to 2018. It's growing at the same speed in Q1 as in all of 2017. Now let's explore the vendors that didn't make the original 2018 native ad tech landscape and the categories they are in. Note: Just because these vendors didn't make the original 2018 landscape doesn't mean they didn't exist in 2017. It just means I discovered them Q1 of 2018.
Programmatic/Networks/SSPs/Exchanges/Platforms
Adiant – Native and non-native advertising units
Adknowledge – Programmatic native and non-native advertising units
Adzerk – Technology platform and APIs for buiding a native ad server
Content Ignite – White label solution to take very own native platform to market. For publishers, advertisers and agencies
DeepIntent – AI-driven native and non-native advertising units. Platform and exchange.
Improve Digital – All-in-one advertising platform for publishers, content providers and broadcasters
IndustryBrains – Premium native ad serving suite for publishers and advertisers
OptiServe – Platform that facilitates the buying and selling of native and non-native inventory from Adiant
RythmMax – Omni-channal exchange for RhythmOne
Revenee – Programmatic native advertising SSP
Solve Media – Native advertising through CAPTCHA
Ströer – Programmatic ad server with both native and non-native capability – Germany, Austria, Switzerland
Yieldlab – Premium native ad serving suite for publishers and advertisers – Native and non-native
Mobile Programmatic/Networks/SSPs/Exchanges/SDKs
DSPs/Managed Services Technology
Mobile DSP
LiquidM – A mobile only self-service DSP
Video Only
Biites – A video marketplace for connecting content, brands and publishers
GothamAds – Video only SSP and DSP
Augmented/Virtual Reality
io – Native ad units and formats with call-to-action and advanced interactivity features support across all major platforms and devices
Social Media
ShareChat – India's fastest growing social network
Social Media Native Ad Management
Connectio – Facebook advertising platform
Messaging Apps
Facebook Messenger – In-feed sponsored content units
Attribution and Analytics
Tune – Tracking and attribution for native, non-native advertising and marketing
Influencer Advertising
Buzzanova – An influencer driven platform with paid distribution on networks and social media
Crowdtap – Connects brands with micro-influencers. Pay using rewards – products or services. Gamified.
Ad – Connects influencers and content creators with advertisers
Sponsored Content Marketplaces
ContentDial (by Triplelift) – Programmatic-driven sponsored content marketplace
E-tail/Ecommerce
Blockchain for Native
In-Game
HQ Trivia (Intermedia Labs) – Native advertising in a trivia game app
Playtem – Native advertising in video games
According to ADYOULIKE, global native advertising spend will be $85.5 billion by 2020 and make up 30% of all advertising spending globally. Juxtaposing Q1's numbers with all of numbers from last year make it clear that the native advertising technology landscape growth isn't slowing down. The growth is consistent with the growth of last year's numbers – in fact, it's exactly the same. Entrepreneurs are jockeying for their piece of the native advertising investment growth.
For more details of the native advertising technology landscape visit the Native Advertising Institute. The free ebook download is also available there. The native advertising and artificial intelligence ebook is available here.
A variation of this article first appeared on Martech.Zone.