The Ultimate List of Sponsored Content Marketplaces for Marketers
By the year 2020, it's estimated that more than $85 billion will be spent globally on native advertising. One such type of native advertising in called sponsored content or long-form native. This is where brands or publications write custom content to be published on an online magazine or blog. It generally takes the form of a full written article.
There are many notable examples. One of the most famous sponsored posts was written by my friend, Melanie Deziel. It's entitled, "Orange is the New Black" and it's sponsored by Netflix. It's real journalism about women in prison. The article was very successful for Netflix and earned multiples more media than the actual paid media.
Many marketers and advertisers aren't even aware that there's a whole ecosystem of marketplaces for sponsored content. These companies act like the Match(dot)com of sponsored content – connecting brands and publishers.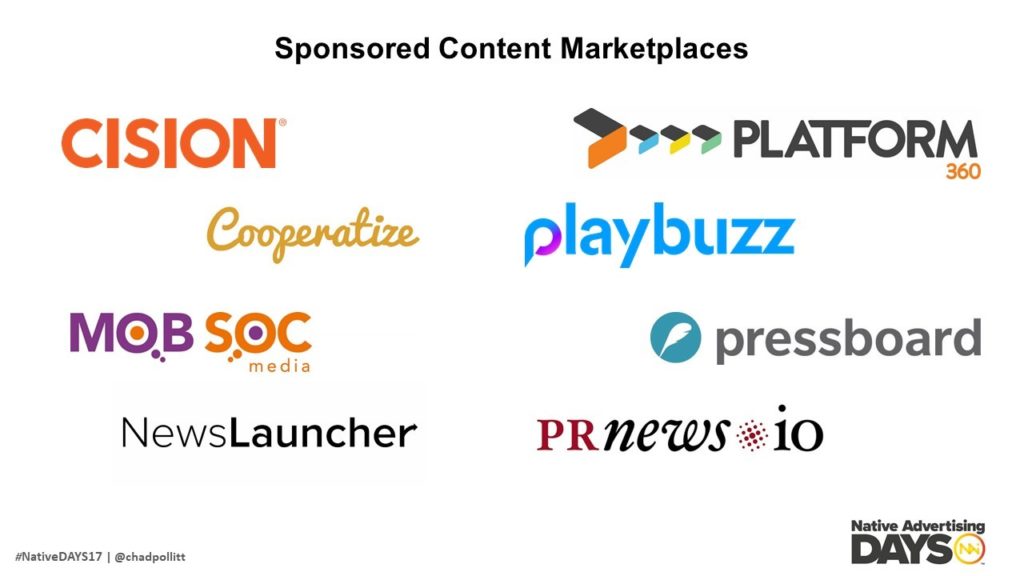 Cision – This solution is much more than just sponsored content match-making. Cision is a full public relations suite that helps brands manage earned, owned and paid media content distribution. From media outreach to social sentiment, Cision is powerful software for promoting content.
Cooperatize – This technology brands itself as a CRM that targets "micro-influencers" at scale. A marketer would use this in order to acquire many bloggers to create content for them. They also have a white-glove service layer to help brands formulate a strategy.
MobSoc Media – This company has built its own massive network of well-traveled websites that fall into the following categories: entertainment, lifestyle, sports, and technology. It also has social media discovery technology that identifies trending content on some of the most popular social sites.
Newslauncher – Billed as a programmatic sponsored content platform, this technology is self-described as built for publishers by publishers. The company boasts some major fortune 500 clientele
Platform 360 – Connect brands with premium publishers, creating bespoke 'True Native' editorial placements in an environment of high advocacy. Network consists of over 1000 premium publishers.
Playbuzz – Enables marketers to author, distribute and monetize interactive stories on its network of online publications. It boasts connections to publications in over 40 languages.
Pressboard – Connected to over 250 premium publishers across North America. The technology has a full workflow management system built in for creating and publishing content.
PRNews.io – A global sponsored content marketplace with millions of users from over 200 countries. Connected to over 6K publications in 53 different languages. Fixed pricing.
For marketers wishing to expand brand-visibility, awareness, and overall audience, the above solutions help get content in front of new audiences in a new way. While sponsored content has been around for over 100 years, it was with the advent of content marketing that pushed the advertorial up-funnel. The technology represented above help brands scale sponsored content production and/or publication. Without them, marketers would be forced to individually engage each publication they wished to publish on.