The Ultimate List of Sponsored Content Marketplaces for Marketers
2
min read
By the year 2020, it's estimated that more than $85 billion will be spent globally on native advertising. One such type of native advertising in called sponsored content or long-form native. This is where brands or publications write custom content to be published on an online magazine or blog. It generally takes the form of a full written article.
There are many notable examples. One of the most famous sponsored posts was written by my friend, Melanie Deziel. It's entitled, "Orange is the New Black" and it's sponsored by Netflix. It's real journalism about women in prison. The article was very successful for Netflix and earned multiples more media than the actual paid media.
Many marketers and advertisers aren't even aware that there's a whole ecosystem of marketplaces for sponsored content. These companies act like the Match(dot)com of sponsored content – connecting brands and publishers.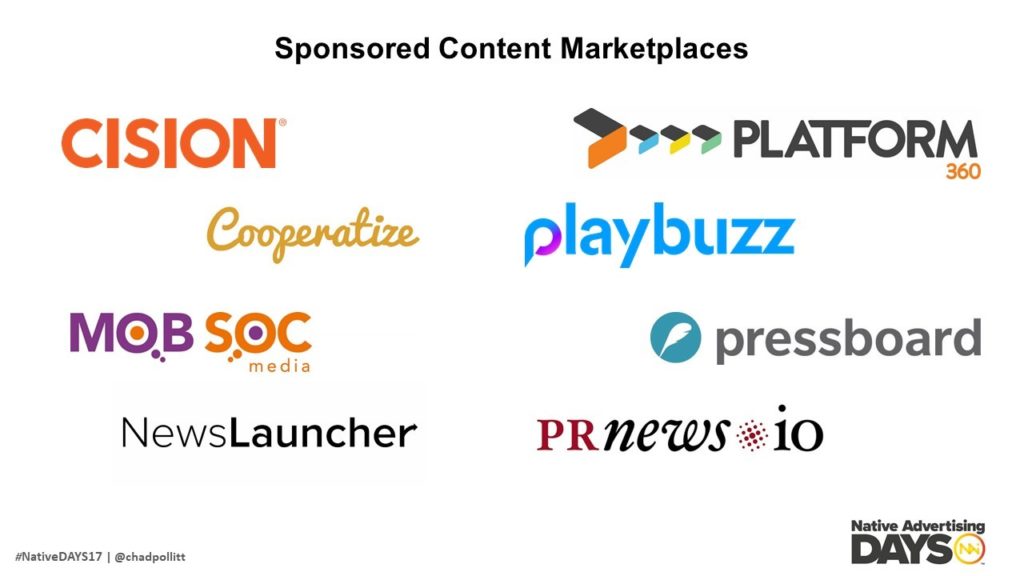 For marketers wishing to expand brand-visibility, awareness, and overall audience, the above solutions help get content in front of new audiences in a new way. While sponsored content has been around for over 100 years, it was with the advent of content marketing that pushed the advertorial up-funnel. The technology represented above help brands scale sponsored content production and/or publication. Without them, marketers would be forced to individually engage each publication they wished to publish on.