Finally, here's a cool way of automating your email newsletters.
It is important to integrate your content marketing strategy and email marketing. It can give your digital marketing campaign an added punch – that extra edge needed to make your campaign a success.
[bctt tweet="The RSS to email functionality is a simple yet powerful way of delivering newsletter emails to your subscribers without lifting a finger." username="relevance"]
RSS to email has been around for long and is another important way of using RSS feeds. Over the years, with the help of developing tools and technologies, a lot has been happening on this front. With its sophistication and advanced features, RSS to email has been transforming email campaigns and boosting engagement results for a growing number of enlightened email marketers. Sendinblue is one of the leading services in this domain and a clear favorite of marketers looking to use the RSS to email functionality for automating their email newsletter marketing campaign.
Let's try to understand the process in detail but before that a recapitulation about RSS to Email.
RSS to Email Explained
RSS to email is a process that involves picking up content from an RSS feed and delivering it to subscribers in the form of an email. Many leading email service providers offer this service.
An RSS feed may contain content in the form of blog posts, news articles, social media posts, and others. You can use any CMS to create RSS feeds as a default. There is no need to perform any additional configuration.
Benefits of RSS to Email Functionality
Create an account on Sendinblue and start sending RSS to email campaigns for free and increase engagement with your subscribers. Marketers can connect with their audience through an automated email newsletter without having to spend their valuable time on setting up and managing the process. The key benefits are:
You can deliver quality content to your customers. They have a reason to visit your website and check what you have for them.
It's a straightforward invitation. There is no uncertainty involved. You don't have to keep your fingers crossed. The best part is that you are doing it by using a method that is credible and proven.
You don't have to get stressed about creating an individual email every time you want to send one.
You can very well include relevant content in the message. The HTML email template allows you to brand the content as your own
You can repurpose your content and reach a new set of readers
Leveraging the Full Potential
The service you are using will play a role in maximizing the benefits of RSS to Email functionality. Of course, automated delivery of content to the subscriber when published is a basic feature and can be achieved with any service you are using. For advanced features such as styling the RSS content with your newsletter, you will have to check with your ESP. Most of them provide this feature as well.
It must be noted that most ESPs allow the automation of a single RSS feed in any one newsletter. If you need to automate more than one feed in a single newsletter, you have to:
Deliver the entire set of content from all sources by combining them all into a single feed. Your subscribers will receive everything, regardless of whether it is relevant to their needs or not. This is not a desirable situation for marketers.
You can create multiple newsletters. Your subscribers will end up receiving many newsletters if they have multiple interests. Again, this is hardly a desirable situation.
The best solution is to use a service optimized for the delivery of multiple RSS feeds. This is an option that is finding many takers in recent times.
Automating Multiple RSS Feeds In Email Campaigns
[bctt tweet="Automating multiple RSS feeds in your email campaigns can deliver great returns if done right." username="relevance"]
You can engage the services of an RSS aggregator that combines multiple sources into a single feed. Alternately, the service of a resource that allows multiple individual RSS feeds within an email campaign can be engaged.
The first option doesn't give you any flexibility in terms of styling or separating your content within the newsletter. If you make use of the second alternative, you can include and automate many RSS feeds in a single email. You can also deliver content based on the preferences of individual subscribers.
You Can Automate and Personalize As Well
Sendinblue offers forever free plan to store unlimited contacts and have them tagged with as many events & attributes as you'd like. The addition of an element of personalization can make a major difference in the outcome of your email campaign. It provides them that much-needed personal touch and prevents that impersonal angle from adversely affecting your email marketing campaign prospects.
Newsletters can serve as an amazing marketing tool. When done correctly, it can help connect with your audience and build relationships. You must make sure that it is delivered consistently with the content focusing on providing value to the subscriber. However, putting a newsletter together and sending it out is a hugely time-consuming and tedious task.
By using the RSS to email feature, you can not only enjoy the huge marketing benefits it brings along but also save time and effort as the automation facility takes care of everything. Even the curation aspect is effectively addressed. You simply have to set up the campaign and choose the schedule. It does everything else automatically.
However, choosing the right email newsletter software platform is crucial to maximizing the benefits of email newsletter marketing. Sendinblue is fast emerging as the popular choice of a growing number of enterprises as it offers everything that your business needs to grow and remain at the top of your niche.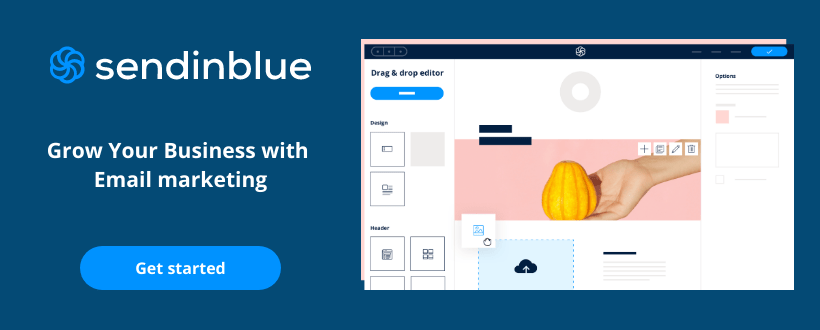 Sendinblue offers the whole range of tools needed to set up and launch an email newsletter strategy successfully. You don't need to be a tech expert to use this platform. The RSS to email functionality is user-friendly and can be launched in next to no time, literally.