Apps have entirely revolutionized the way companies interact with their customers. They've become part of our everyday lives, making things a lot easier with just one tap on your smartphone.
Creating an app can open infinite new opportunities for your business, but you've probably already found out (or soon will!) how much of a competitive arena an app store can be.
Thankfully, video content is the perfect tool to give your audience a closer look into what your app is all about!
Today, we're going go over what the best production companies out there can teach you about promoting your app through video – walking you through the process of drafting your script, choosing the right type of video, and more!
Video Content for Your App: Where to Start?
Just like every app, every video starts with an idea you'll condense into a script. There's just no two ways about it! By fleshing out your script, you're making sure your video won't lack coverage of an app's essential features and benefits.
More importantly, scripting is a crucial stage in every preproduction process, as it will help you establish the nature of your message. A compelling and effective script must be clever about what aspects of your app you want to stand out, and what would be best to leave for some other medium.
As you work on your script, you should start by answering these simple, but highly revealing questions:
1) Who is my target audience?
If you haven't thought about it by now, then this is a great moment to figure out who your video is for. Take the time to think back upon your audience. What are their interests? What motivates them? What style of content do they prefer the most?
[bctt tweet="Your video must talk directly – almost personally – to them." username="relevance"]
They must feel like you are addressing their specific problems, as to keep them interested in finding what your app can do for them. And on that note…
2) What are the benefits of using my app?
As I mentioned at the beginning of this piece, apps are more than an icon on your phone: they are a tool to improve your work, be used as a hobby, help you study, or just improve your day. The benefits that your app brings to the table should be the main focus of your video. After all, it's the reason people will use it in the first place!
Making a list of the most attractive features of your app can be useful, but you'll need to go deeper. Your script must explain how these features are going to improve your audience's experience. Video gives you the opportunity to show (rather than tell) the practical benefits of your app.
3) Why is my app better than the competitions'?
Remember the old saying, "Keep your friends close and your enemies closer"? Well, your competition isn't necessary "your enemy," but it is important to learn about them to understand what makes your app a better solution.
Now, keep in mind that your video doesn't need to explicitly mention your competitors or your target audience. These are just questions you should keep in mind as you write your script, to help guide the video's content.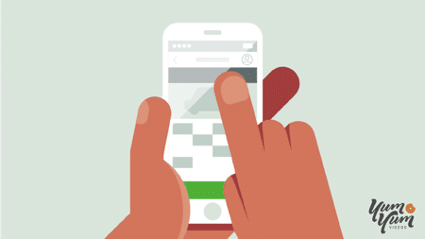 Choosing a Type of Video that Suits Your Message
Due to their flexible nature, there are countless types of videos at your disposal that can help you achieve different marketing goals. But today, we're going to focus on the three most effective styles for apps: Explainer Videos, Product videos, and Customer Testimonials.
Explainer videos
Let's start with one of the most popular types of branded video content out there: explainer videos. These short, animated pieces use the power of storytelling to communicate the essential features and benefits of your product. Explainer videos usually begin introducing a problem your audience can relate to, in a way they can easily understand – all while showing how and why your app is the best option to solve it.
When should you use an explainer video? If you've just developed a new app, an explainer video can perfectly illustrate how your creation works, and how it can benefit your potential audience. Also, because they are great at translating an elaborate idea into a simple and engaging message, explainer videos work perfectly for complex apps that could be harder to understand with other videos.
Product videos
Product videos are very popular in eCommerce marketing, which explains why they're being used in-app promotion as well. In this context, product videos give you a great platform to list your app's features and uses.
It's a very direct and easy to understand style. But, if you're not careful, there's also the risk of coming off either too bland or too forward. To avoid ending up with just a boring piece of advertisement – or one that sounds like an informercial – you should look for new angles or play with the expectations.
Plus, product videos can be great if you're launching a new version of your app and list the new features and improvements you've worked so hard for.
Customer testimonials
People trust other people; it's as simple as that. And having happy customers sharing their experience can have a huge impact on your downloads. Customer testimonials are just that: videos that take the spotlight away from the seller and let your customers do the talking.
These videos are perfect for apps that have been in the market for a while. So that you can conduct as many interviews as you can for your video. Moreover, you can also include app reviews and reactions to show the real-life benefits of your app.
Maximizing Effectiveness with Pro-level Production Tips
Regardless of the type of video you end up choosing, there are some rules and advice you need to follow if you want to get it right. While every video is unique in its own way, we've seen too many videos gone wrong to know that some rules are just not meant to be broken.
Length and tone
The best advice I can give you in this regard is to keep your video as short and straightforward as possible. Nobody has the time to sit through a long app video, not even you, and you've actually made the thing! The perfect total length of branded video content is 90 seconds. This means you need to get to the point as quickly as possible to grab your audience's attention.
And by simple, I don't mean that you have to dilute your message, but that you need to simplify it. This goes hand in hand with keeping your video short: don't say in 5 minutes what you can say in 30 seconds.
Branding
Your video should feel like an extension of your app. This means you should follow the same esthetic guidelines that you used when crafting your app. Typography, color palette, logo, sounds, all the design resources of your app are going to come alive in your video.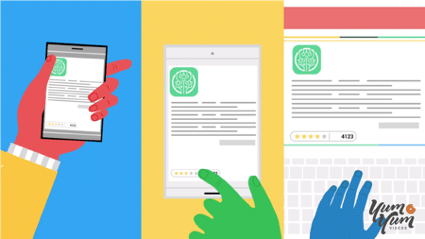 Entertaining
Viewers are more likely to share your video with their friends if it's entertaining. You don't need to overdo it; just a small laugh will do! People react better to things that make them feel something; this is the difference between less-known videos and most videos gone viral.
Show your product in action
Video is the closest thing your audience will get next to actually downloading your app. So, you'll want to help them visualize what your app looks like! Give viewers a sneak peek of your product to make your video more interesting to watch.
Summing Up!
Most developers think that once their app is live, their work is done. They couldn't be more wrong! Promotion is one of the biggest steps you need to take to make a successful app.
Video content provides the best way to tell the story of your app and motivate your audience to download your product. However, as we've seen in this article, there are a couple of things you need to get right if you want to make the right impact. Harness the power of video marketing, and you'll be surprised with the results.