Digital marketing today is broader, yet more specialized, than ever before.
Beyond just SEO or social media, we now have experts on video, podcasts, images, and text working all over the world. Thanks to modern technology, we can communicate with anyone, anywhere. So if you're still struggling with the regular office setup or if you love the idea of working from home, then maybe remote digital marketing – with the help of today's hottest mobile live streaming apps – is for you.
Remote Digital Marketing 101
Remote digital marketing is when a team works away from other aspects or elements of the standard business organization. It could mean either of these two scenarios:
A company decides to let its digital marketers work out in the field or from home, where they are more comfortable (and, ideally, productive), OR
A company hires digital marketers from another business and works closely with them from beginning to the end of the project.
The second example sounds a lot like outsourcing, but it is different in a sense that the hiring company exercises plenty of control over what happens in the venture – unlike most outsourced models.
Working remotely has plenty of advantages, but even more so for the average digital marketer. Why is that? Marketers need to be creative, flexible and innovative. It's rather difficult to keep those artistic juices flowing when you contain yourself in the four corners of your cubicle 365 days a year. Imagine working on a social media campaign while sipping coffee at a local bistro, or as you listen to children's laughter at a park!
On the other hand, it's not for everyone. As Workado Founder Justin McGill says on a blog post, remote digital marketing can only be successful through commitment, constant communication, and testing. If you believe your company is ready to get some fresh, new talent outside your office, or maybe try your luck working on a campaign at home, then do your due diligence and get your feet wet before plunging in head first.
For those who wish to improve their remote marketing experience, have you ever thought about introducing your team to the newest live streaming apps?
Inspiration From Anyone – Anywhere
Video live streaming isn't anything new. However, pair it with the mobile experience (accompanied by social media) and you have yourself a killer tool. A few of today's best live streaming apps include:
Meerkat
Periscope
Live for Facebook Mentions
Blab
You have probably heard about Meerkat and Periscope. The latter was acquired by Twitter to give their users more story-telling options. Unlike plain text or photos, live video streaming gives you the excitement of sharing your world with an audience who can comment in real-time. As Broadsuite chief digital strategist Brian Fanzo discovered when he first tried Meerkat, "it felt interactive, like having a true conversation."
Although both apps are similar in nature, they have a few distinguishable features. Periscope, for instance, allows for saved broadcasts and lets users stream to select viewers. Meerkat, on the other hand, is a true live streaming tool in that once you have your broadcast, that's it. No replays or rewinds.
The great thing about these apps, though, is that it lets people connect in real time – no matter where they are – conveniently using their mobile devices.
Putting Live Streaming Apps to Use
Here's how remote digital marketing teams can harness the benefits of these popular tools:
Backstage Inspiration
Inspiration is a HUGE driving factor. According to a study from the University of Warwick, happy employees were 12 percent more productive than those who felt uninspired. But sometimes, inspiration can be hard to find. That's a tough call for digital marketers, who need to call upon the powers of persuasion to get a campaign going.
So what do you do when your marketing team is low on creative ideas? Get in touch with your audience. Usually, this begins when you let people take a sneak peek of your daily activities.
Social media tool Hootsuite did just that with their campaign Operation #FollowTheSun. As the company has several teams across the globe, they were tasked with introducing their culture to viewers via live streaming app Periscope. This works two ways by:
Getting people to be interested with the company, their product, services, and operations.
Giving remote employees the chance to inspire strangers, and at the same time, find out something awesome about their task that they were previously unaware of.
With more than 5,000 viewers during their broadcast, they were able to gain 230 new followers on Twitter and Periscope. Not bad.
If your remote digital marketing team is looking to connect with more audiences, increase brand awareness and try a new app at the same time, letting people take a sneak peek of your everyday work may just be the magic you need.
Staying on Top of Trends
These days, almost anyone can be a journalist or reporter. With roughly two-thirds of Americans owning nothing more than a smartphone (no broadband or other devices to go online), apps like Meerkat can help us broadcast important events as they happen around us. That means being front and center of trends – as they occur.
In fact, media presenters are pulling relevant content from live streaming videos—as was the case with the momentous Late Night Show with David Letterman marquee that was captured by freelance digital marketer Geoff Golberg using Meerkat. During a live video broadcast at Times Square, he saw a comment about the marquee being taken down at the Ed Sullivan Theater. The broadcast was found on Twitter and was later aired on CBS with Golberg's permission.
Working remotely allows your digital marketers to be everywhere. Use that as a starting point to find interesting stories and exciting events you could use for your campaign.
Better Communications for Better Performance
Perhaps the number one challenge in working remotely is proper communication. This is especially tough on teams with people across different time zones. When you have a high-cost digital marketing campaign on the line, how do you inspire employees to do their best? Show your "human" side with a live broadcast.
Executives usually won't spend thousands of dollars to meet remote employees just to give them a gold star for effort. There are corporate videos, but they somehow feel distant, technical, and impersonal. A better alternative is to give a live broadcast (maybe at your office or the company headquarters) using Meerkat or Periscope.
Box CEO Aaron Levie showed off his goofy side after kicking off their 2015 first earnings call with a few card tricks.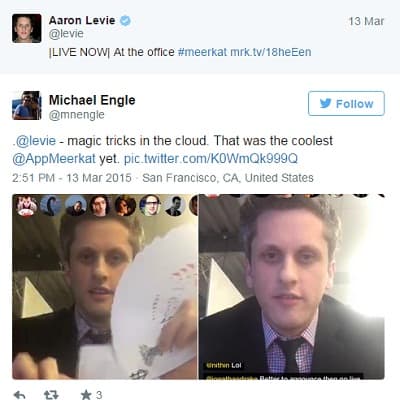 Viewers enjoyed the short show and it endeared Levie not only to potential clients but also those working for him. Not all CEO's have the confidence to live stream their hidden talents, but being able to show your down-to-earth side is a trait that's not only appreciated by employees – but shared by the best leaders in any business.
The Future of Storytelling Today
Digital marketing is changing fast. Although social live streaming apps such as Meerkat and Periscope seem advanced right now, there will be even better technology ahead.
As digital marketers, we should not only hop on these fresh ideas now, we should also have the initiative to look into the future and think about how audiences will digest content ten or twenty years from now. How will they interact with various types of media? How will their communication preferences change?
Whether you're at the office or working from home, digital marketing challenges are better faced in a team. Is yours ready?